BY SHANE LOUGHLIN – 
CONSULTING NUTRITIONAL CHEF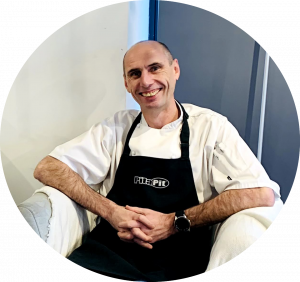 How to make vegan or plant based interesting!
Posted on August 17th 2021
At Pita Pit we promote a balanced healthy diet and lifestyle. In previous blogs we have spoken about the carbon footprint of foods and the amount of water it takes to produce animal protein in comparison to vegetables. Meat free Monday and Veganuary are on the rise and reducing the amount of meat we consume is becoming increasingly popular among the general population.
People's motivations for consuming less animal protein vary from, as we mentioned above, the environmental impact of production of animal protein to ethical or moral reasons, and also for health reasons. If you are going to reduce the amount of animal protein that you eat it is probably best to do it little by little, one or two meat free days a week and slowly increase that so that it does not seem like too much of a chore or make you feel like you are missing out too much.
For some people, trying to cut out or reduce their meat intake can be a challenge, and one common comment that is heard is vegetarian or vegan is boring and a bit tasteless, but it isn't – or it doesn't need to be. For me as a chef when cooking plant based it's all about flavour and texture, layering flavours and adding textures so there are contrasts in your mouth when chewing, like soft and crunchy ate the same time. Condiments are also important in this type of cookery. A simple and great idea is to make your own finishing salts to sprinkle on food at the very last minute. You can make a Mediterranean salt by getting some table salt and blending it with some dried herbs such as basil, oregano & rosemary, you can make an Indian style salt also by adding spices such as turmeric, cumin and garam masala and blending. These sorts of finishing salts are simple to make, the possibilities of flavour combinations are limitless, and they store for a long time in airtight tubs in your kitchen. Hot sauces are also a great way of spicing up your dishes – there is an abundance of them available and they last for a long time in your fridge. If you want to add a little umami flavour to your vegetarian or vegan dishes try sprinkling some nutritional yeast on your food just before serving, it will give a savoury and slightly parmesan cheese taste and it is also a source of vitamin B12 which can be deficient in plant-based diets.
Cauliflower rice is a great alternative to traditional rice and worth a try with a curry or bean casserole. It is widely available in supermarkets, or you could try and make it yourself, its super simple – just get a head of cauliflower with all the outer leaves removed, grate it on a cheese grater and hey presto you have cauliflower rice. Cook it in boiling water for about 1 minute and you have a delicious and nutritious alternative to white rice. Asian style crispy fried onions are a great topping to sprinkle on top of stews and curries just before serving and they provide great taste but also a great crunch which gives a lovely texture to your finished dish. Chopped nuts are also a great topping on dishes just before serving as they provide that texture that we are looking for, but they are also nutritional powerhouses.
Plant based doesn't have to be dull and uninteresting it can and should be tasty and good for you, using some of these tips will help to elevate your dishes. Why don't you try it and see how you get on, your body and the planet will thank you even for small changes you make towards a healthier diet and lifestyle.
And finally – if you don't have time to do it yourself – we at Pita Pit offer a delicious and nutritionally balanced range of both vegetarian and vegan options, including our best-selling Oumph Range.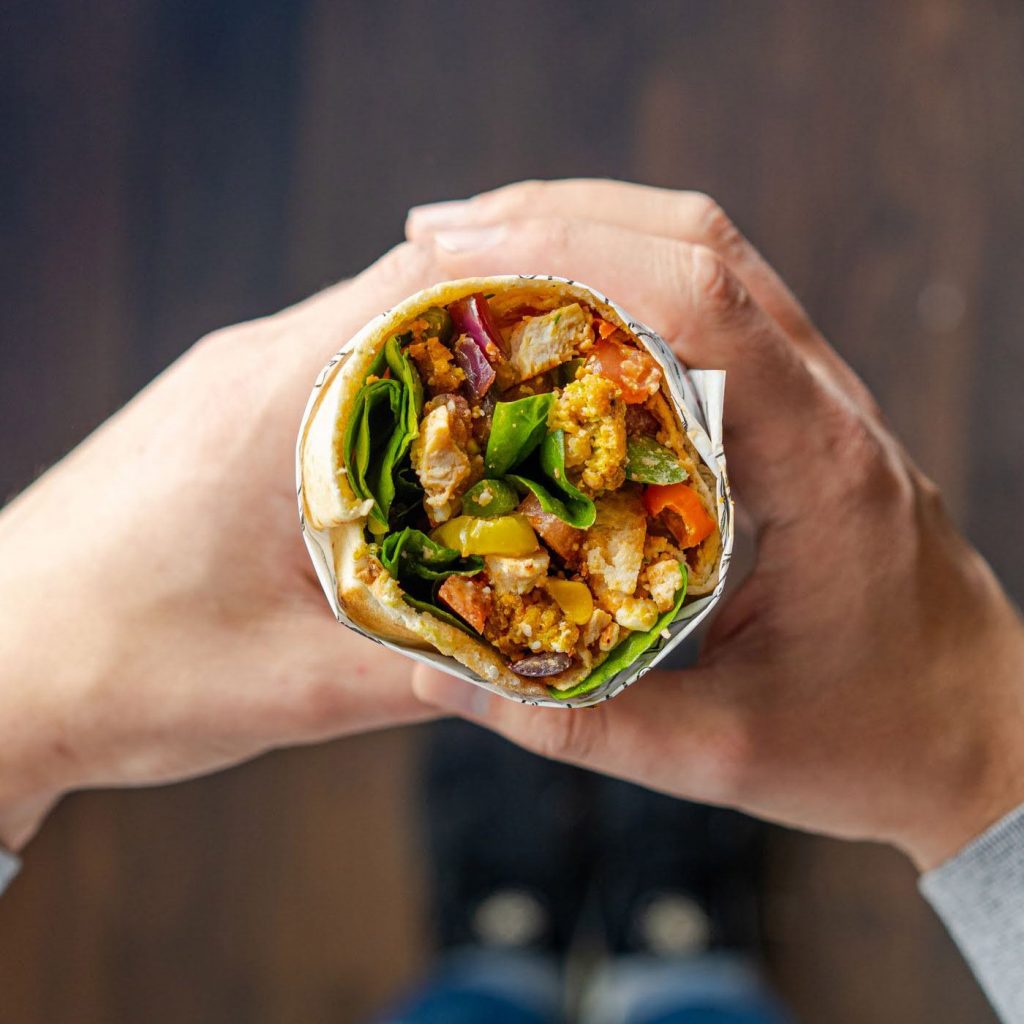 In our latest blog we are going to talk about the why's and what's of healthy eating. Why should we eat a healthy balanced diet and what is a healthy diet or eating plan? At Pita pit our aim is always to provide you with simple no nonsense information on how to embrace a healthy lifestyle which includes a healthy diet but does not have to be restrictive. We at Pita pit believe that diet and lifestyle should be as much fun and hassle free as possible.
Why should we eat a healthy diet? There are several reasons to eat a healthy diet, when you eat well you reduce the risk of developing certain diseases. If you have children, you are more likely to pass on good eating habits to them. Good eating habits and a healthy diet can lead to:
• A healthy body weight
• A healthy cholesterol level
• Less chance of developing type 2 diabetes, heart disease and cancer
• A greater sense of wellbeing both physical and emotional
They are compelling reasons to try and eat a healthy diet, it is good for you and all the family.
Now let's look at what is a healthy diet
Foods are made up of nutrients. Protein, carbohydrate, fat, and vitamins are types of nutrients. Your body needs the right mix of nutrients to be healthy and well.
Different foods contain different nutrients. Choosing a mixture of foods every day will help you get to get all the nutrients you need to grow and be healthy. This is what it means to eat a balanced diet.
Foods that contain the same types of nutrients are grouped together as:
• vegetables, salads, and fruit
• wholemeal cereals and bread, potatoes, wholemeal pasta, and brown rice
• reduced-fat or low-fat milk, yoghurt, and cheese
• lean meat, poultry, fish, eggs, beans, and nuts
• fats, spreads, and oils
Food also gives you the fuel (calories) you need for your body to work. If you take in more calories than you use, you will put on weight and become overweight. If you do not take in enough calories, you will be underweight. Either is bad for your health. Making small changes to your diet can make big differences to your health now and in the future.
Making the change to adopt healthy eating does not have to be a big change all at once, baby steps making small daily changes to your eating habits can and will have a huge benefit to your health, then gradually some more changes. This way we can achieve health by stealth, lots of small changes can result in a big difference to overall health. Eat healthy on your own terms and make small changes often which will lead to big results, rather than big changes all at once that might not lead to big results as these changes are too hard to maintain. Don't forget that Pita pit are here to help you embrace the small but healthy changes to your diet because we provide fresh thinking on healthy eating. We also provide you with accurate nutritional information on all our menu items made instore, so we can help you to make informed decisions on your healthy eating journey. Check out https://pitapit.ie/nutrition-2/ for all our up-to-date info on our dishes and let us help you eat healthy.

why you should include pita pit in your healthy diet!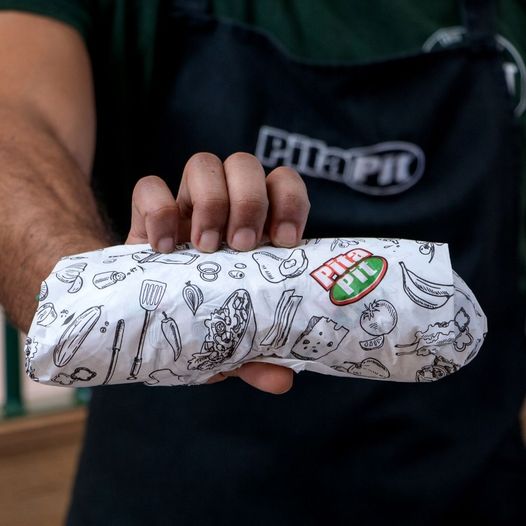 In this episode of our blog we are going to look at the benefits of including some of our delicious, tasty offerings in your daily or weekly routine. At Pita Pit we offer you a range of healthy nutritious foods that include "build your own" and our signature pitas, salad bowls (the pita without the bread), and nutritional powerhouses in our rice bowl selection. We also offer a range of superfood smoothies which are packed full of performance enhancing goodness and gut loving Yogen Fruz ® frozen yoghurt treats.
Here at Pita Pit, we pride ourselves with serving some of the tastiest most nutritious food around. We also pride ourselves with giving our customers the most up to date and honest information about our menu items. We do this because we want to be part of your healthy lifestyle and we want to help you make the most informed decisions possible about the food you eat.
For example, our A-Tuna-Matata pita has a perfectly balanced macronutrient ratio. It is also packed full of essential micronutrients, like selenium which is an antioxidant that helps clean up free radicals in the body. If you lead an active lifestyle or are a regular exerciser your body will produce more free radicals which can cause oxidative stress on your system, that is why we need to maintain correct amounts of antioxidants in our diets. This one pita contains 38% of your daily selenium requirements. The macronutrient balance in this pita makes it an ideal post work out or post training food as it contains the right amount of protein to promote glycogen recovery in muscles. On top of this its also delicious.
From our Bowl'd range the Salmon Buddha bowl packs a powerful nutrient punch providing you with nearly 50% of your requirements for omega 3 fatty acid and vitamin k for a day. This nutritional powerhouse is made on a red rice base which is antioxidant rich, providing the body with more ability to limit the damage of free radicals produced on a daily basis. For those that lead an active lifestyle this bowl also contains Turmeric which is known to be a natural anti-inflammatory and is beneficial for athletes to include in their diets.
Our superfood smoothies and Yogen Fruz ® contain good for the gut yoghurt. The importance of maintaining good gut health can not be understated as so many of our immune functions are controlled by the bacteria in our guts, so it is important that we feed them with products like yoghurt and other fermented foods such as kimchi, which is an ingredient in our Korean BBQ bowl.
At Pita Pit we are striving to provide you with the most nutritious, beneficial, and tasty food possible. As always, all our nutritional information is available on our website https://pitapit.ie/nutrition-2/# . Check out the info on our site to give you fresh thinking on healthy eating.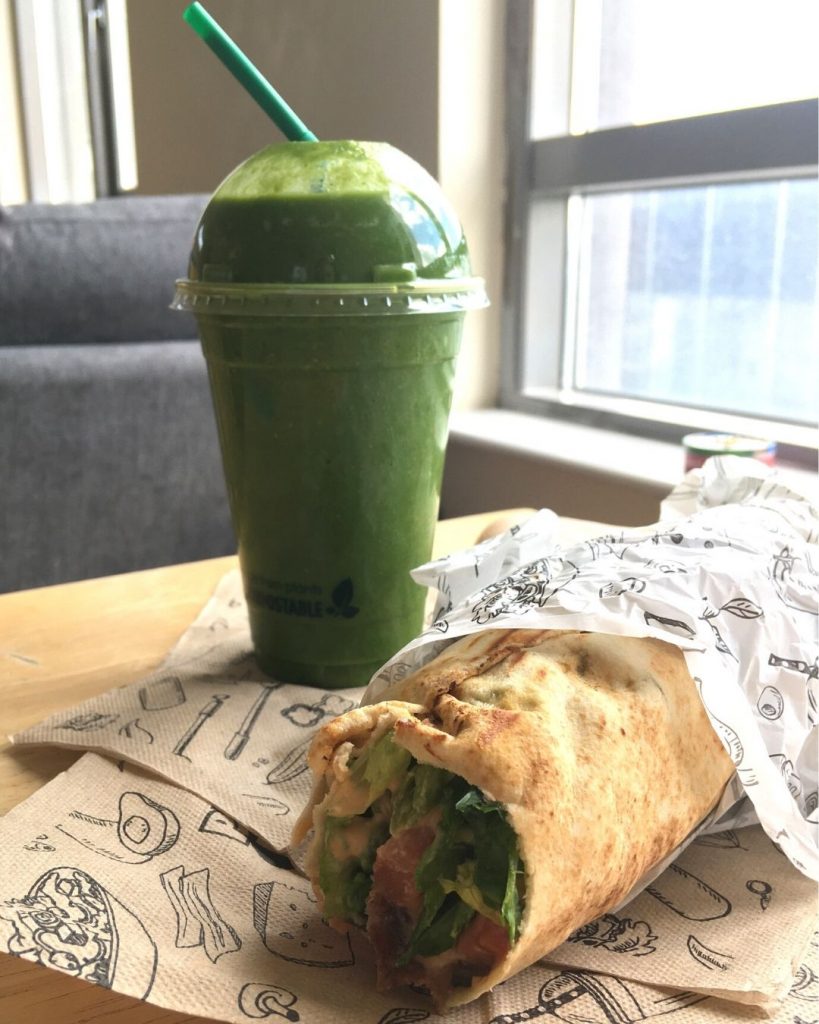 As summer approaches and we look forward to putting on lighter clothes for our staycations or vacations, lots of us are looking for ways to feel at our best. Lockdowns and winter for many of us included eating and drinking a little too much and inevitably gaining an extra few pounds. Being a bit more aware of what we are eating and how we can get in shape is a great way to ensure that we hit the beaches and boardwalks feeling good about ourselves.
For this edition of our blog, we want to share with you some information on the calorie content of popular foods and drinks and what that equates to in terms of calories burned during exercise. Calories are a measure of how much energy food or drink contains. Simply put, to maintain body weight we should not consume more calories than we burn in a day. 
Our bodies need calories to provide energy for everything from breathing to sleeping. How many calories our bodies need varies from person to person depending on many factors such as age, activity levels and lifestyle. On average an adult female requires 2000 Kcal per day and an adult male requires 2,500 Kcal per day, children between 6 & 12 years old need between 1500 Kcal and 2000 Kcal. These are the number of calories we "burn" without additional activities i.e. just to live.
Any additional activity will be fuelled by extra calories, but the bad news is that, while any form of exercise is probably the single most important thing you can do to stay healthy, most of us don't do the type of exercise that burns a lot of calories. For example, walking is highly recommended for everyone of every age to keep your heart and lungs healthy, your joints in good shape and to boost your mood and mental health. And it does require extra calories – but just not that many.
That's why it's important to have some awareness of the calorie content of the foods you choose to eat, and one way to think about it is how much energy they provide – do you really need enough extra energy to run half a marathon?
While the figures shown below are only indicative as portion sizes vary everywhere, this information gives an idea of the exercise required to burn off the calories that we consume. A 30 minute run at an average pace of 7km/h will burn around 450 Kcal, an average 30 minute H.I.I.T. workout or 30 minutes on a punching bag will burn around 300Kcal and 30 minutes of tennis will burn you around 240 Kcal. 
This shows the effort required to burn off those excess calories that we may consume without really noticing. That's why at Pita Pit we provide you with accurate nutritional information for all our menu items allowing you to make informed decisions when it comes to choosing what you would like to eat, so for the most up to date information check out https://pitapit.ie/nutrition-2/ and let Pita Pit help you eat healthy without compromising on taste.
Food

Calorie content

Exercise equivalent

Pepperoni Pizza

1000 Kcal for 4 slices

11km run

13km walk

 1450 sit ups

Quarter Pounder & Fries

930 Kcal

10km run

13km walk

1300 sit ups

 4 Cookies

340 Kcal

3km run

5km walk

480 sit ups

Chinese Takeaway

1800 Kcal

20km run

25 km walk

2900 sit ups

Pint of Beer

185 Kcal

1.5km run

2km walk

250 sit ups

Glass of prosecco

130 Kcal

1km run

1.5km walk

180 sit ups

Can of fizzy drink

140 Kcal

1km run

1.5km walk

190 sit ups
Posted on March 31st 2021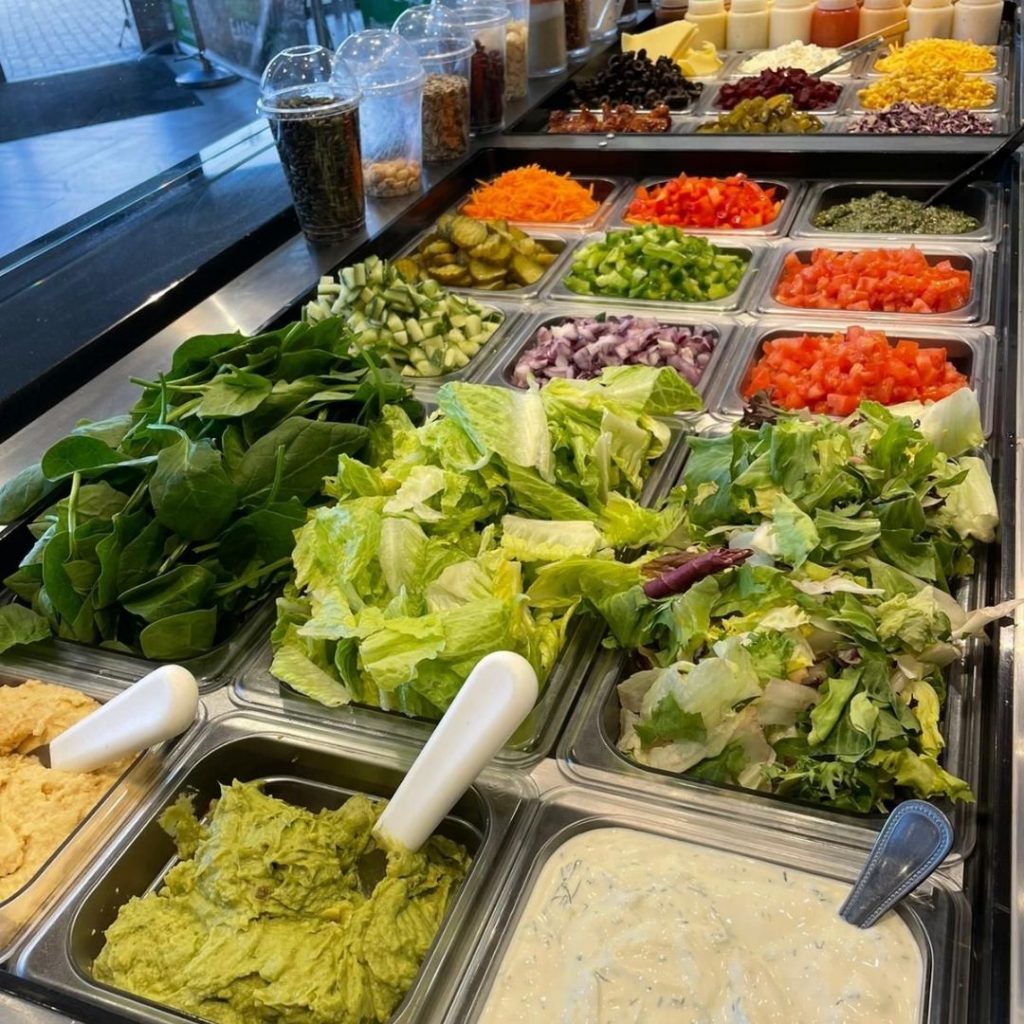 Mark Twain once said, "the trouble with the world is not that people know too little, it is that they know so many things that just aren't so". Even though this quote was written over 100 years ago it still has resonance today. There is so much misinformation around nowadays especially when it comes to nutrition and health. At Pita Pit, we aim to provide you with accurate nutritional information in relation to all our offers to allow you to make informed decisions about the food we offer. That's why our nutrition page on our website https://pitapit.ie/nutrition-2/ is constantly updated as we add new offers.
When it comes to healthy eating and lifestyle, we are top of the class at giving you the correct information to help you achieve your nutritional goals with our delicious healthy offers. As we have previously mentioned the Mediterranean diet has been widely recognised for its health benefits. Other diets or lifestyles can have huge benefits for the body, a whole food plant-based diet has been found to improve overall general health in many studies. There are simple choices we can all make to eat healthier without having to go on a radical diet, cut down on processed foods as most contain trans fats and lots of sugar and salt, try not to eat too much food from jars and tins as these usually contain lots of sugars and salts, reduce intake of sugar-sweetened beverages, eat more whole foods, drink more water, and get some exercise. These few changes in the way you eat can have a major benefit to your overall health. A vegan diet of processed foods is equally as unhealthy as a non-vegan diet of processed foods, the processed foods are the problem not whether it's vegan or not. That's why at Pita Pit we offer a range of foods that are not only super tasty but also, they are super healthy.
If we all ate some more vegetables and fruits and reduced the amount of meat we consumed just a little, maybe Meat-Free Monday's or something similar we would not only do wonders for our bodies but also wonders for the planet. Did you know that 26% of the world's greenhouse gas emissions come from food production and a lot of that is from livestock and fisheries production? It takes 15,400 litres of water to produce one kilo of beef, whereas it only takes 287 litres of water to produce one kilo of potatoes and 250 litres of water to produce one kilo of cabbage. Water is a precious commodity and if we all make some small changes in our choices of what we eat it can make a big impact on our planet's health. So, let's all try to make a little difference for ourselves and the planet, your body and the planet will thank you. We at Pita Pit are here to help you make those healthy choices with our delicious range of healthy pitas, salads, and bowls so why not try us for your meat-free day. Don't forget to check out our website to view our healthy foods and visit our nutrition section to help you make those informed decisions.

A PIECE
OF THE MEDITERRANEAN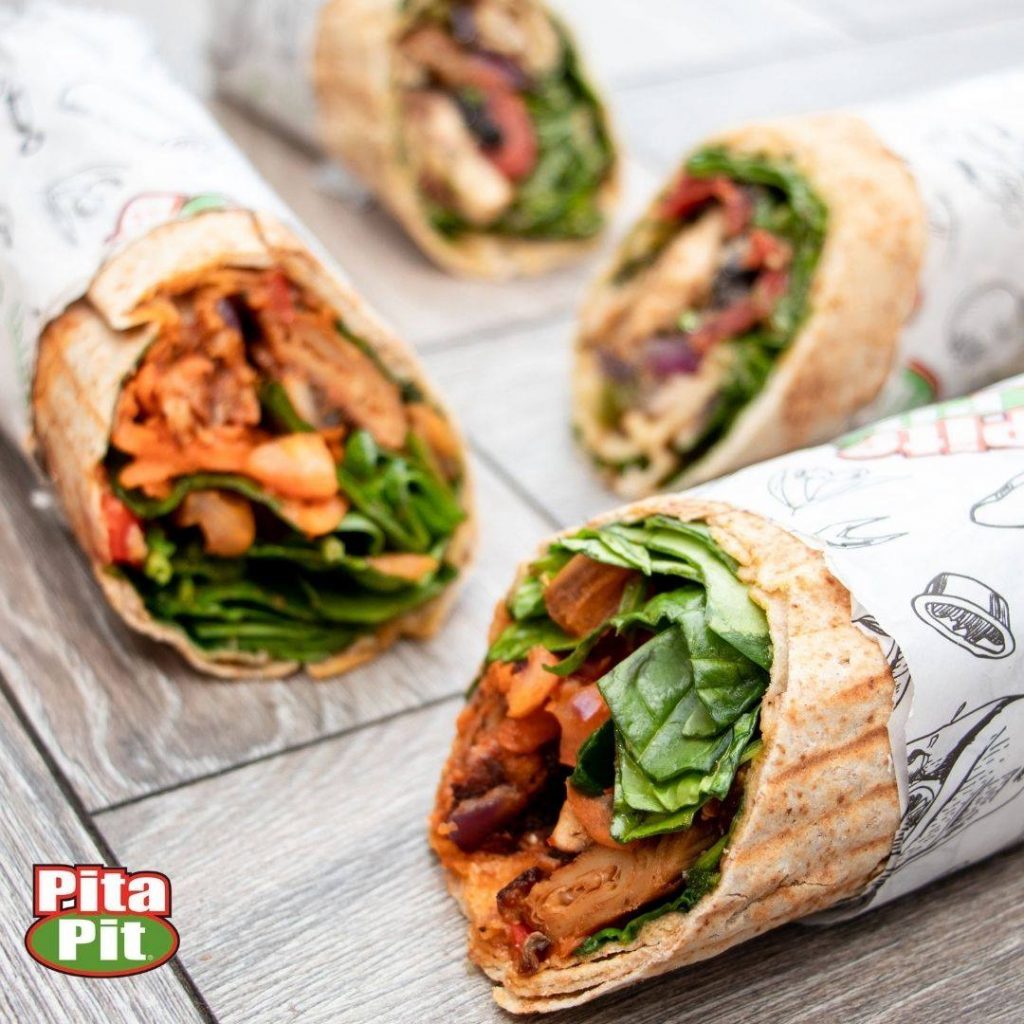 Diets and eating habits are hot topics right now with most of them focusing on the idea of abstention in one form or another and are only temporary measures that usually last for a defined period of time. We see diets that range from a 7-day detox to 30 day eating plans and many others in between. If you want to lose weight and eat well it's all about a healthy lifestyle and not a time-constrained eating plan. To ensure a healthy lifestyle, the WHO (World Health Organisation) recommends eating lots of fruit and vegetables, reducing fat, sugar, and salt intake, and exercising.
So, which is the healthiest diet? Studies have shown that the healthiest diet and lifestyle is the Mediterranean diet. This diet and lifestyle covers all countries that border the Mediterranean Ocean from Southern Europe to North Africa and the Middle East. Our pita bread that we use in Pita Pit is a Lebanese style bread, we use Middle Eastern falafel and dips like our hummus and Greek-style tzatziki. One of the key aspects of the Mediterranean diet is lots of fruit and vegetables, whole grains, and nuts. Have you seen our deliciously stocked salad counter instore full of whole vegetables and salads? It is a temple to good health. All of our salad bowls only use brown or red rice (the healthy stuff) that provides you with lots of gut health fibre. The core of our menu comes from concepts based around Mediterranean foods. 
How can we at Pita Pit help you lead a healthy lifestyle? When you order from Pita Pit, we can guarantee we're offering you the highest quality unprocessed foods around. All of our pitas, bowls, salads, and Yogun Fruz items are produced using whole foods rather than processed ones. By incorporating these foods into your diet and cutting back on processed items you do wonders for your health. Incorporating whole foods and embracing a little exercise in your daily routine can help you live longer. That's a good trade-off – more fruit and veg and fresh food and a little exercise daily as well as cutting back on processed foods can add years to your life. At Pita Pit we can help you on your health journey by not only providing you with healthy food but also by providing you with detailed nutritional information on all the items available on our menu, check out the nutrition section of our website to access all this information to help you make healthy choices  https://pitapit.ie/nutrition-2/.
We can't guarantee you the sunshine of the Mediterranean, but we can guarantee you a lot of the foods that make the Mediterranean diet the healthiest of them all. 
Posted on February 25th 2021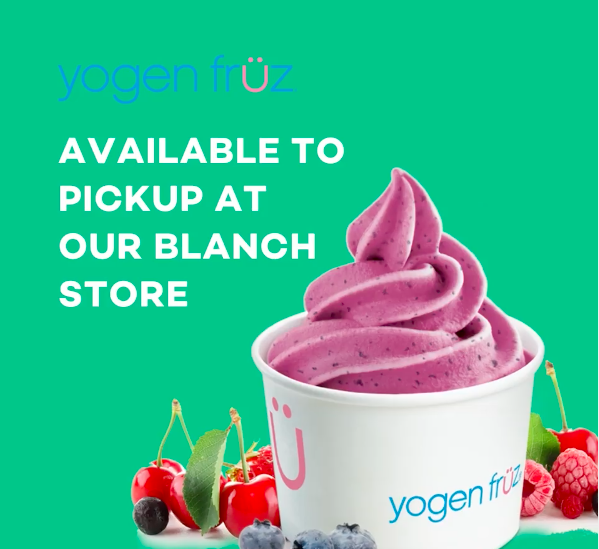 At Pita Pit, we are always trying to bring you delicious tastes, flavours, and experiences that help you embrace a healthy lifestyle. Pita Pit are delighted to introduce you to Yogen Fruz, a mouth-watering, healthy, guilt-free, frozen yoghurt treat. Here's how it works, we take a healthy low-fat Yogen Fruz frozen yoghurt bar which is 130 Kcal and you select which premium-grade frozen fruit you want to flavour your delicious treat. We pop them into our Yogen Fruz blending machine, which works its magic and we dispense you a whipped delicious healthy treat moments later. Fast, tasty, and healthy!
Just like regular yoghurt, frozen yoghurt contains live probiotic cultures. Probiotic cultures, such as lactobacilli and bifidobacteria are healthy bacteria which are beneficial to gut health. With nearly 70% of the body's immune system found in our gut, it is imperative to maintain a healthy digestive system. Probiotic bacteria can assist in the maintenance of a healthy gut and consumption of probiotic-rich foods such as frozen yoghurt can help with this.
Yoghurt and frozen yoghurt have other potential health benefits such as improved calcium absorption for the body due to the presence of lactic bacteria. Research has shown that the effects of lactose intolerance are greatly reduced or eliminated in many people when they consume yoghurt, because of the cultures present in the yoghurt. The bacteria in the yoghurt breaks down lactose making it more digestible for sufferers.
Acidophilus, another healthy bacterium found in yoghurt has been shown to assist in the lowering of cholesterol levels in the blood. Yogen Fruz is 97% fat-free and with a portion coming in at under 200 Kcal, it is an excellent, healthy, immune-boosting treat for you to try the next time you feel like a guilt-free indulgence. Check out the new range of Yogen Fruz at https://pitapit.ie/

OUR DELICIOUS, HEALTHY
KIDS MENU
Posted on February 12th 2021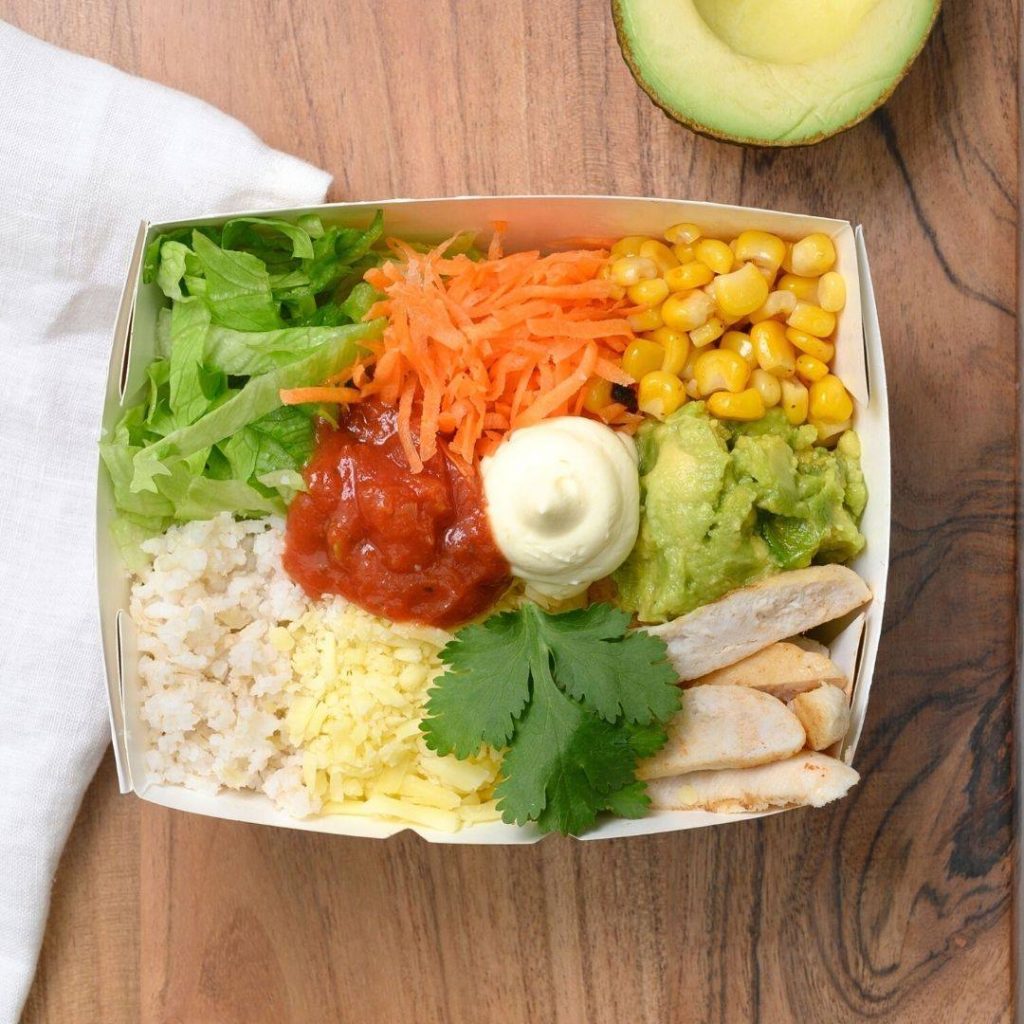 Did you know that children between 6 and 10 years of age need on average between 1600 Kcal and 2000 Kcal daily? Also, did you know that around 40% of a child's energy intake goes towards supporting brain function and growth? With this in mind here at Pita Pit, we recently launched a new kid's menu. The pitas on this menu have been carefully designed to provide your kids with essential nutrients to help in their development.
Our delicious and healthy kid's menu has been designed to suit all tastes.
It includes:
Moovin' On Up: packed full of Irish beef, carrots, crunchy cos lettuce, Ballymaloe relish and swiss cheese all wrapped in one of our handmade pitas. Coming in at 299Kcal this pita provides a child with 40% of their protein requirement, 18% of their fibre needs and 40% of their Vitamin A needs for a day.
Popeye's BBQ Chicken: the clue is in the name, this pita is full of BBQ chicken, Popeyes favourite spinach, sweetcorn, & delicious Irish cheddar cheese wrapped in one of our handmade pita's. This delicious pita comes in at 287 Kcal and 45% of your child's protein needs, 18 % of their fibre needs and half of their vitamin K needs for a day.
Looney Tuna: filled with delicious healthy tuna, sweetcorn, crunchy cos lettuce, Irish cheddar cheese, & tomatoes. This marine delight comes in at 368 Kcal and contains 50% of your child's protein needs, 18 % of omega 3 needs, & 80% vitamin B12 needs for a day.
Dustin's Destiny: this one is packed with protein-rich turkey, crunchy cos, carrots and grated Irish cheese wrapped in our handmade pita. Our turkey pita comes in at 332 Kcal per serving and has 35 % of protein, 30 % omega 6, & 35% Vitamin A needs for your child in a day.
All Vegetables Matter: our handmade pita is filled with plant-based goodness for this one. It contains crunchy cos lettuce, delicious ripe tomatoes, carrots, and nutrient-rich red cabbage with a sprinkle of Irish cheddar cheese. This vegetarian delight comes in at 231 Kcal and contains 25 % of fibre, 40% of Vitamin A, & 35% of Vitamin K1 needs for a day for your child.
As we come to midterm break time and a much-needed break away from home-schooling for all, why don't you check out our great value family deal where you can feed a family of 2 adults and 2 kids with a delicious, healthy and nutritious meal for just €37. This deal includes 2 Original Pitas for the adults, 2 Pitas from the kids' menu, a delicious snack (Cali Crisps or Broderick's bar) for everyone and a thirst-quenching drink of choice for everybody. It's not just great value but good for you too, what a combination.
Posted on February 3rd 2021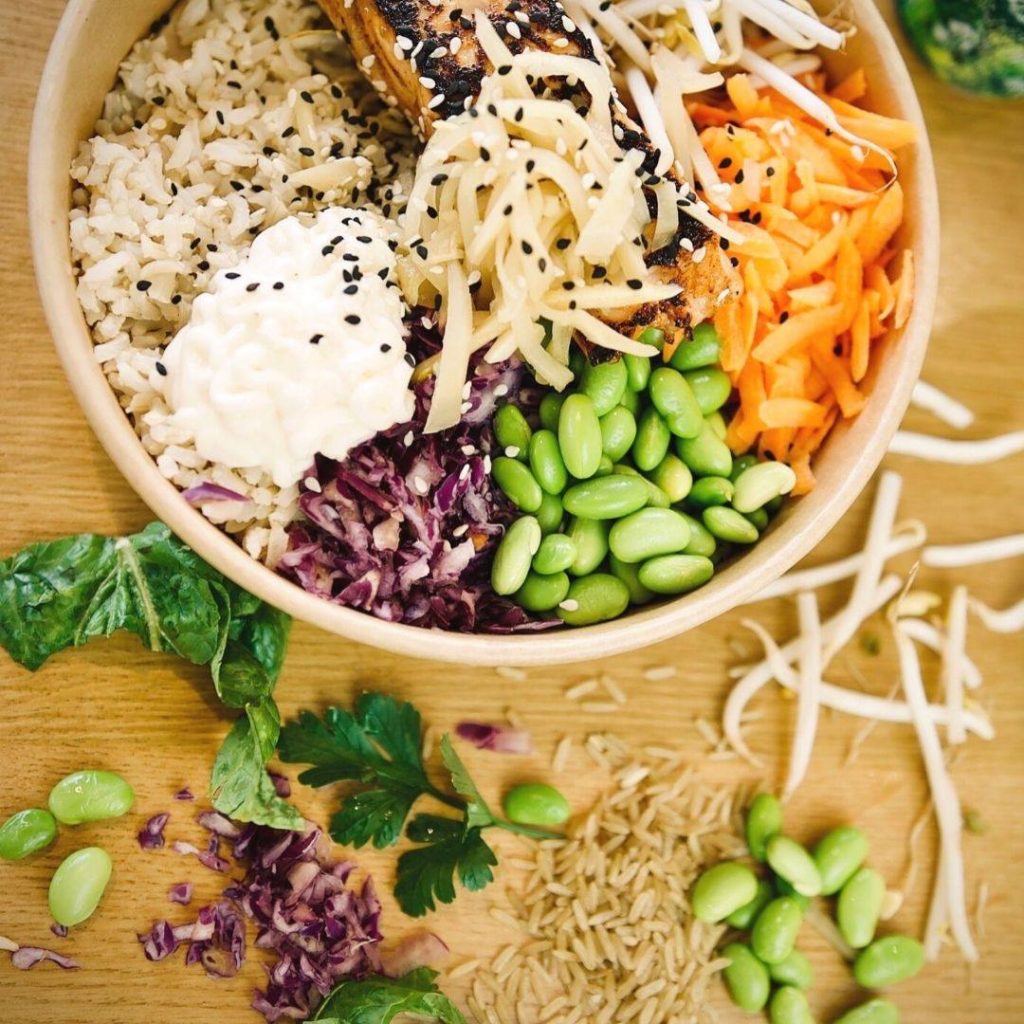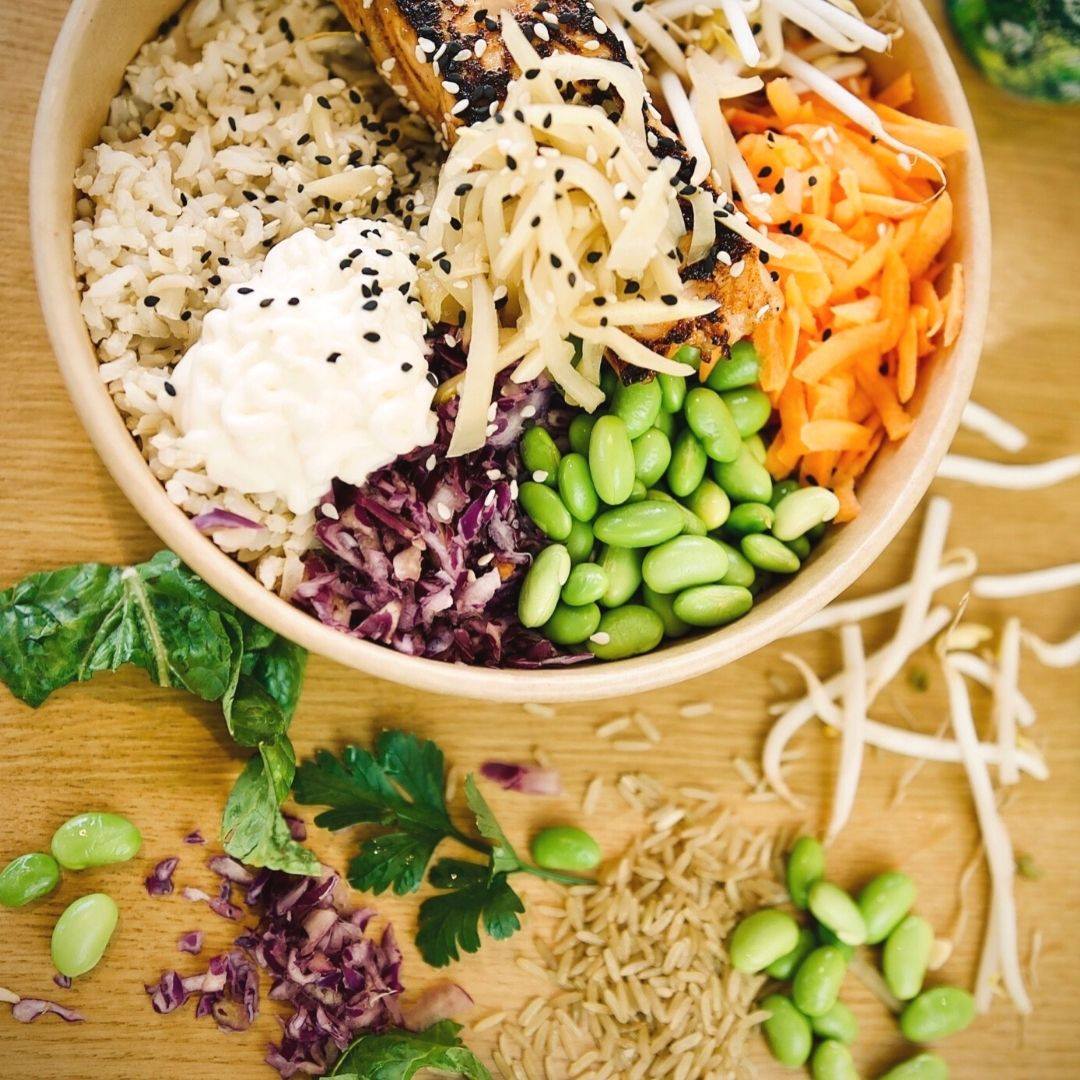 As we begin to see the days get a little bit longer and the January blues are starting to dissipate, let Pita Pit help put a spring in your step with our range of bowls. At Pita Pit our aim is to provide you with delicious healthy food to energise you throughout your day. Our pitas are packed with fresh, healthy, and nutritious ingredients with our brown pitas, which are handmade in Dublin, delivering nearly a quarter of your fibre needs for a day.
For our customers that are more calorie conscious, did you know that you can enjoy one of our delicious pitas in a bowl minus the bread and reduce the calorie content by 200Kcal?  This gives everyone the opportunity to experience and taste our delicious menu on your terms whether in a bowl or in our handmade pitas – rolled or bowl'd you can have it your way.
Another tip for our more calorie conscious customers is to half the cheese in your order, while our cheeses are delicious and a great compliment to our dishes and also a great source of protein, having a little less can help you improve on your overall calorie consumption in a day.
Don't forget to visit our nutrition section on our website for accurate information on all of our delicious, nutritious offerings.
Posted on February 1st 2021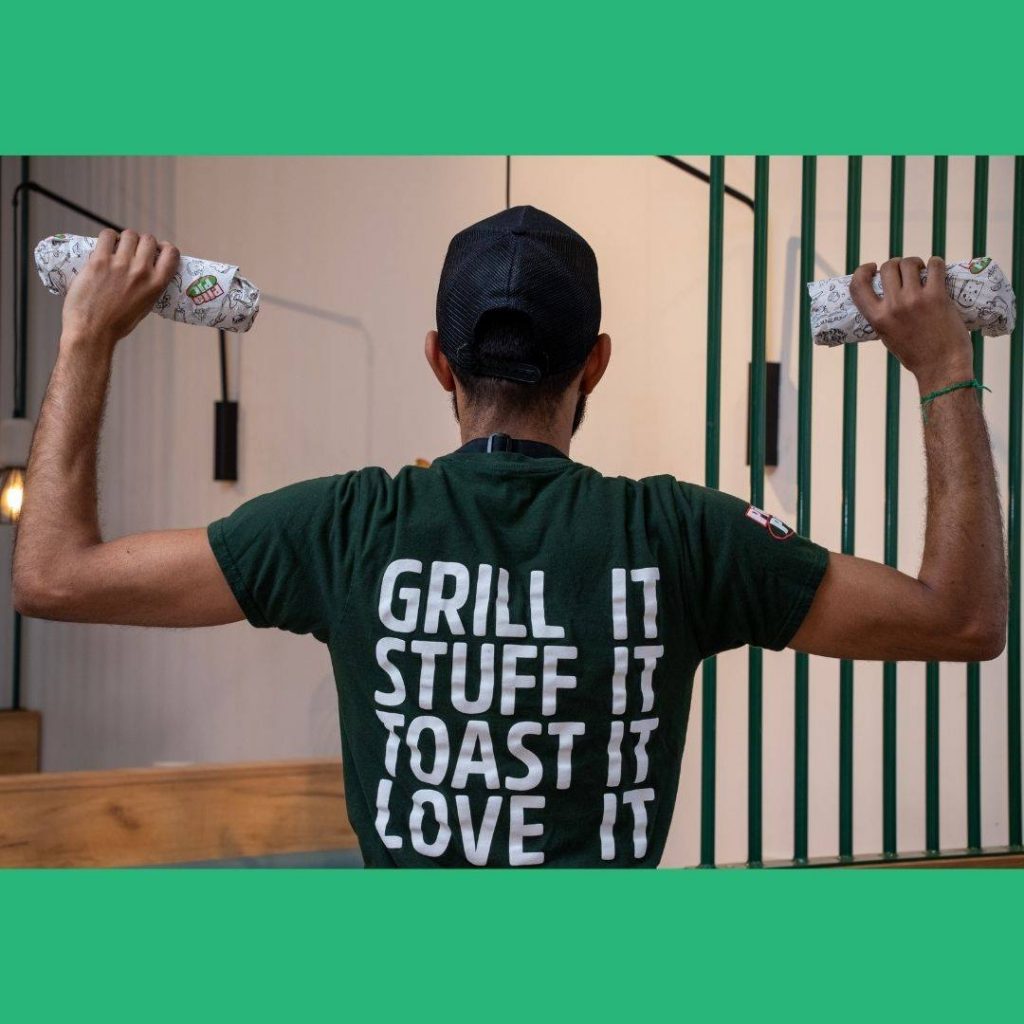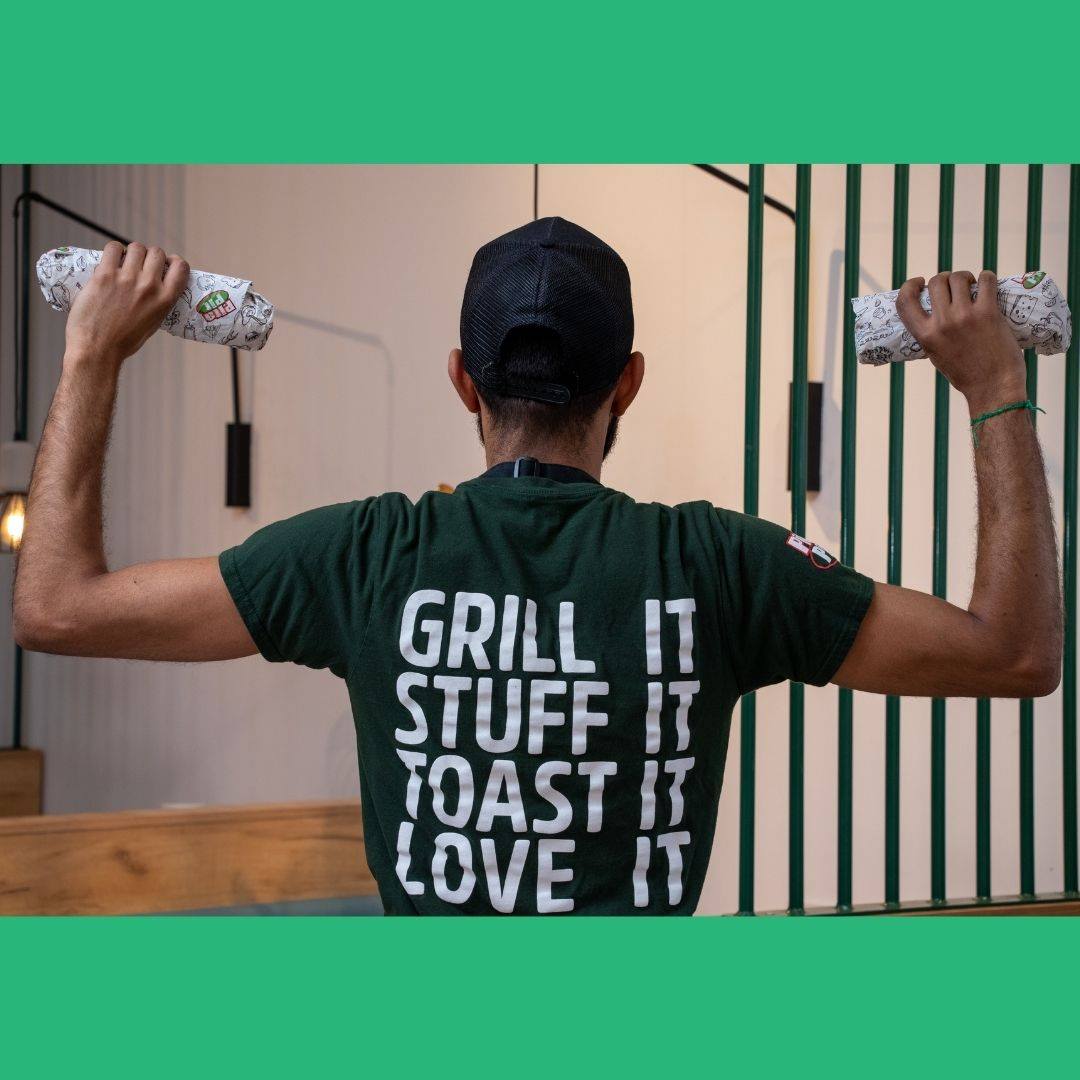 As we finally see the back of a gloomy winter and there is an air of expectation with the tentative signs that spring is coming, let us use the time wisely to banish those winter blues and embrace spring and all that it has to offer. Now that the days are getting a little longer and the temperatures are getting a little warmer, let's take a moment to appreciate it and all that it brings.
With so many of us still working remotely and involved in homeschooling the pressure on us to perform can be relentless and at times, extremely stressful. It can be quite challenging to try to juggle and keep on top of everything. That's why it's good to take a little "you time" and during that time maybe you could consider exploring mindfulness.
Mindfulness is a type of meditation in which you focus on being intensely aware of what you are sensing and feeling in the moment, without interpretation or judgment. Practicing mindfulness involves breathing methods, guided imagery, and other practices to relax the body and mind and help reduce stress.
Spending too much time planning, problem-solving, daydreaming, or thinking negative or random thoughts can be draining. It can also make you more likely to experience stress, anxiety, and symptoms of depression. Practicing mindfulness exercises can help you direct your attention away from this kind of thinking and engage with the world around you.
What are some examples of mindfulness exercises?
There are many simple ways to practice mindfulness. Some examples include:
Pay attention.

 It is hard to slow down and notice things in a busy world. Try to take the time to experience your environment with all of your senses — touch, sound, sight, smell, and taste. For example, when you eat a favourite food, take the time to smell, taste, and truly enjoy it.

Live in the moment.

 Try to intentionally bring an open, accepting, and discerning attention to everything you do. Find joy in simple pleasures.

Accept yourself.

 Treat yourself the way you would treat a good friend.

Focus on your breathing.

 When you have negative thoughts, try to sit down, take a deep breath, and close your eyes. Focus on your breath as it moves in and out of your body. Sitting and breathing for even just a minute can help.
Exercise is also a great way to improve our mood, it has been shown to increase serotonin (the happy hormone) levels in our brain, and it is both physically and mentally beneficial for us. The more we do the better we feel, so here are some simple ways to get a little exercise into your daily routine even if you are working remotely
Get up and move

every hour, walk around for two minutes, you could even try a few jumping jacks if you feel like it.

Use what you have, 

you do not need fancy gym

 

equipment to do a home workout. Sit-ups or push-ups don't require anything except yourself. Tin cans or bags of sugar from your larder or bottles of laundry detergent can replace weights for strength training.

Go for a walk,

if you can get out for a walk on your lunch break, even fifteen minutes is of benefit. If you can leave your phone behind while on the walk and practice some mindfulness while walking (living in the moment and clearing your head of negative thoughts) the benefits of this can be huge.
A healthy diet can support your mind and body to get through these stressful and challenging times and that is where Pita Pit can help. On those days when you might not feel like cooking but you still want something fresh, healthy, and nutritious, let us help you with our range of delicious and healthy whole food pitas, salad and rice bowls, healthy snacks, and superfood smoothies. For our full range and complete nutritional information on all our products please visit https://pitapit.ie

PLANT-BASED
WITH
GREAT TASTE
Posted on December 21st 2020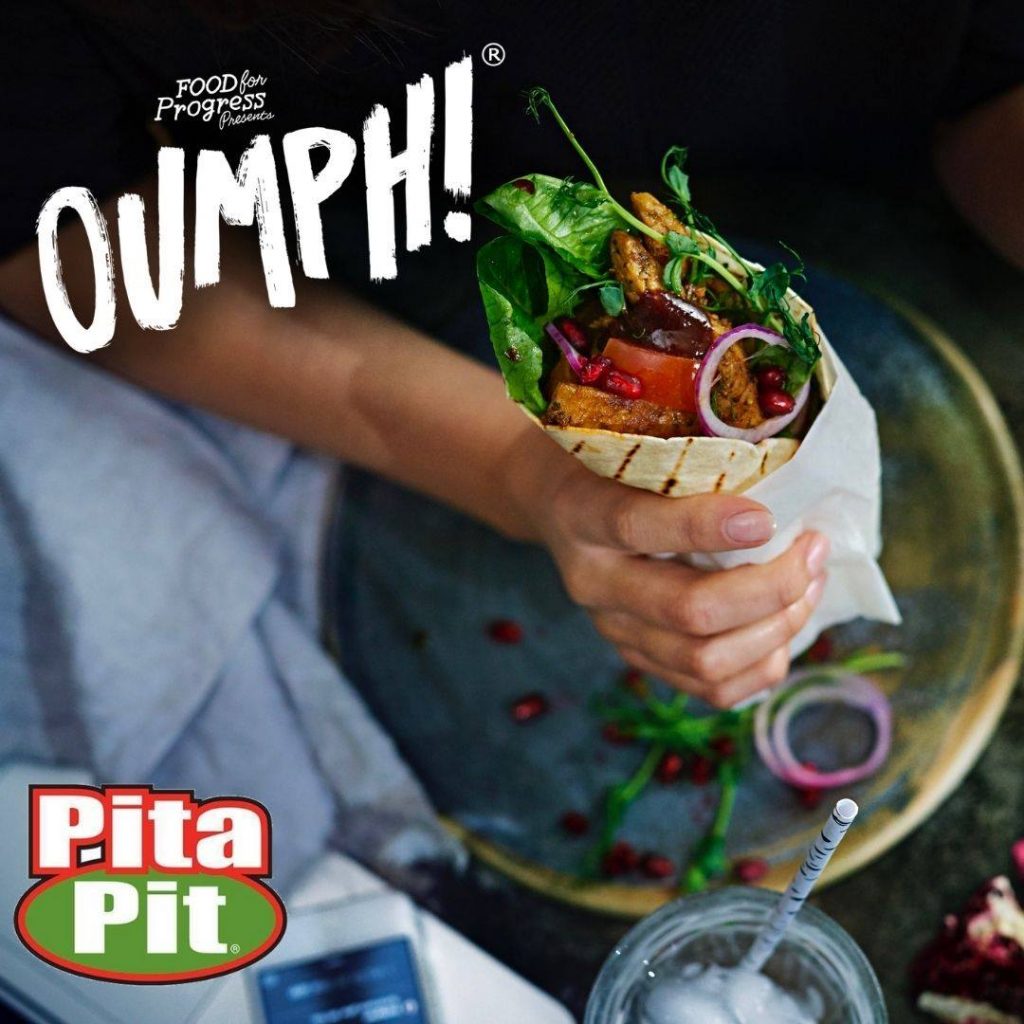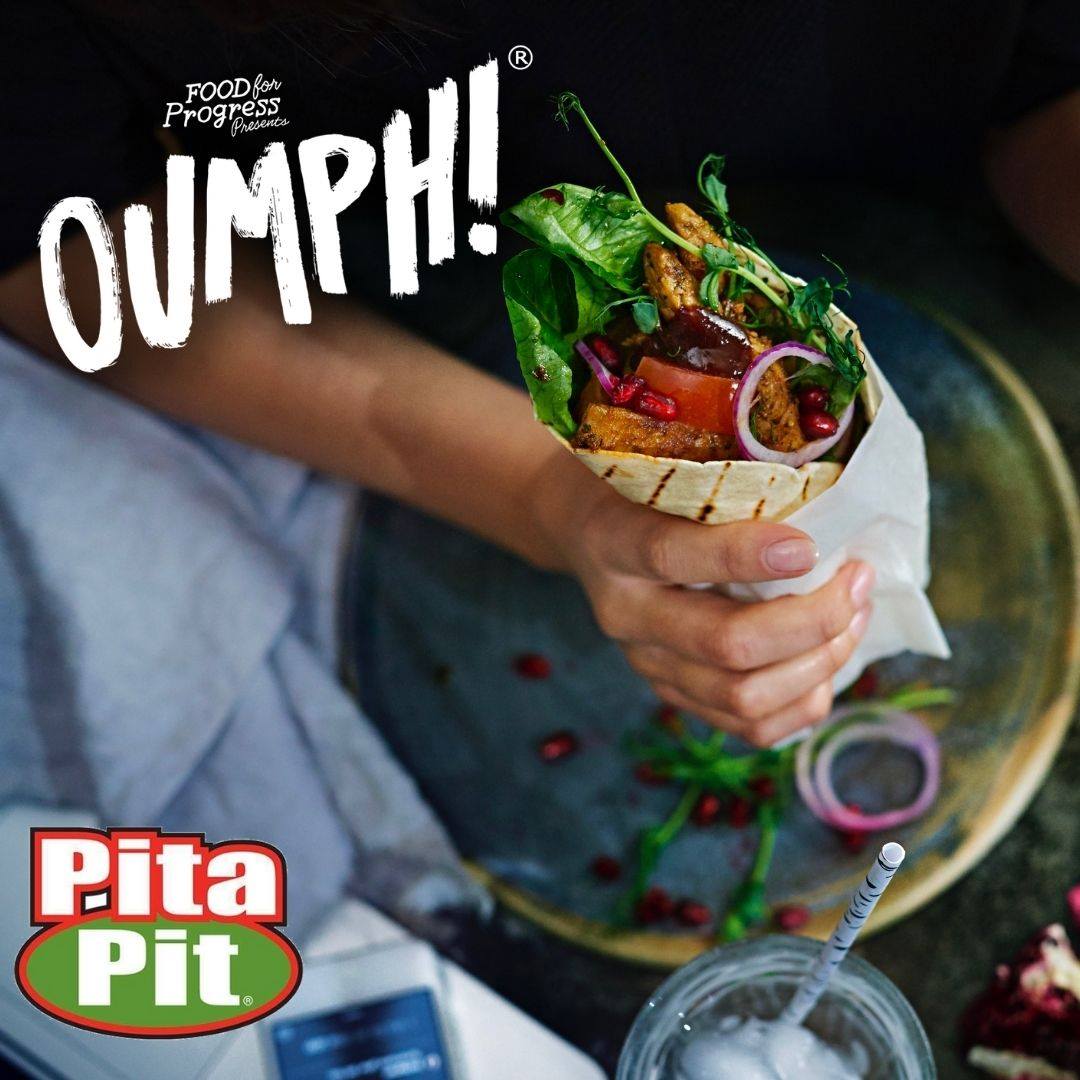 We take nutrition seriously here at Pita Pit and want to help you understand it easier. A healthy diet is all about balance. We should all try to eat more fresh foods and cut down on processed ones. Some simple tips include:
Increase your intake of high fibre starchy Carbs, these include whole grains, wholemeal pasta, and brown rice. That's why we use brown rice in our bowls. These carbs are good for us, are slow-release, and provide energy over a longer period. They also feed all the good bacteria in our gut which promotes a healthy immune system.
Eat more vegetables and fruit. All of our pitas are packed full of fresh, tasty, nutritious vegetables and salads. Fresh fruit and vegetables are a powerhouse of nutrients for your body.
Eat more healthy fats like the ones found in salmon and avocados, these fats are good for us and have great benefits for the brain and the heart. You can find these in our bowls and pitas.
Drink plenty of fluids. We should try and increase our intake of healthy fluids such as water or some of our other in-store beverages such as kombucha, which benefits our immune system by feeding those bugs in our gut and promoting a healthy immune system. There is also our delicious range of smoothies which have all been nutritionally analysed to provide you with a delicious, nutritious drink that is packed with vitamins and minerals.
There has been a lot of attention in the media in recent times about the benefits of various different diets and eating habits often endorsed by celebrities who look great, with perfect figures and smiles. But before we rush to jump on a celebrity-endorsed bandwagon let's just stop and think for a moment. Celebrities are not the general public, celebrities have personal trainers, celebrities have the time to spend with personal trainers. All photoshoots are managed and staged with great lighting and makeup. These celebrities don't wake up in the morning looking like that. We all should eat healthier and we all probably know that.
The Eat-Lancet report of 2019 stated that as a planet to achieve a sustainable food system we need to reduce our consumption of animal-based protein and increase our consumption of plant-based alternatives. This is both for our own personal health and for the health of the planet.
Currently, more than 50% of the planet's ice-free land is used for the production of animal protein between grazing land and land used to grow feed for these animals.
As economies become wealthier, the demand for these products which may have been luxuries previously will grow, thus putting pressure on the planet.
It is reported that 1kg of beef requires 10 times the amount of water required to grow 1kg of wheat and that 1kg of poultry requires 5 times the amount of water than beef. Remembering that water is a finite resource.
As consumers, we may consider reducing our consumption of these products a little, if we all did a little bit it would do a lot for the planet.
Consuming more vegetables and fruits is both good for us and the planet, some of the benefits include:
Plants are high in fibre which is good for our gut and our immune system.
Plants are a good energy source and also contain good quality protein such as that found in soy, lentils, chickpeas, and peanuts.
Fruits and vegetables are packed full of micronutrients and vitamins which help the body run at an optimal level.
The more fruit and vegetables we eat the more benefits for our bodies with regards to weight management and healthy outcome.
Every meat-free day by a person can save 1100 gallons of water, 10kg of grain production, and 10 kg of carbon dioxide production.
Always remember that we should eat whole foods and not processed ones – a vegan sausage roll is no healthier than a regular sausage roll.
At Pita Pit, we love Oumph which is a plant-based protein product derived from soy. It is all European grown and does not contribute to deforestation. It is GMO-free and is rich in protein and fibre and high in Iron and Folic acid. It comes in a range of varieties and flavours. Why don't you check out our Spiced Oumph or Kebab Oumph Pitas as a great introduction to plant-based meat alternatives? For more information on this great product check out https://oumph.uk/.
Posted on December 2nd 2020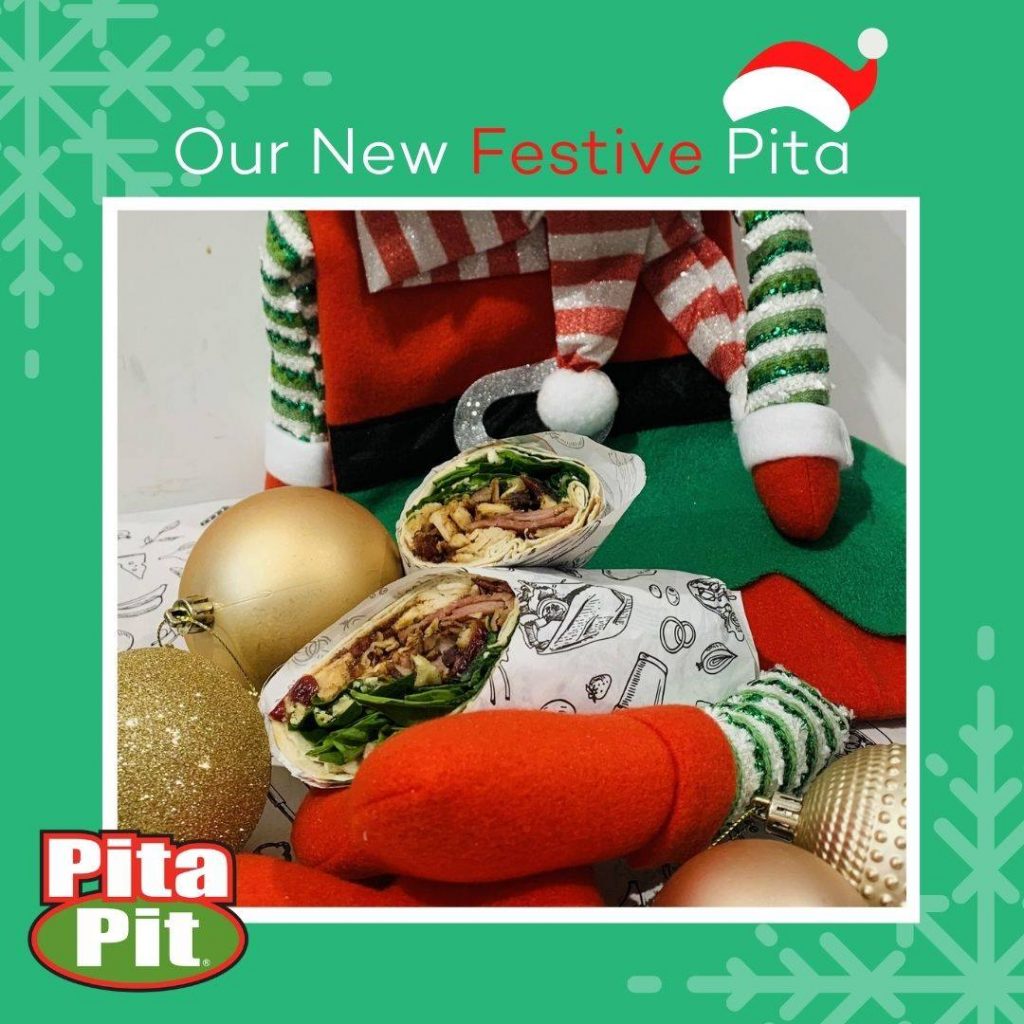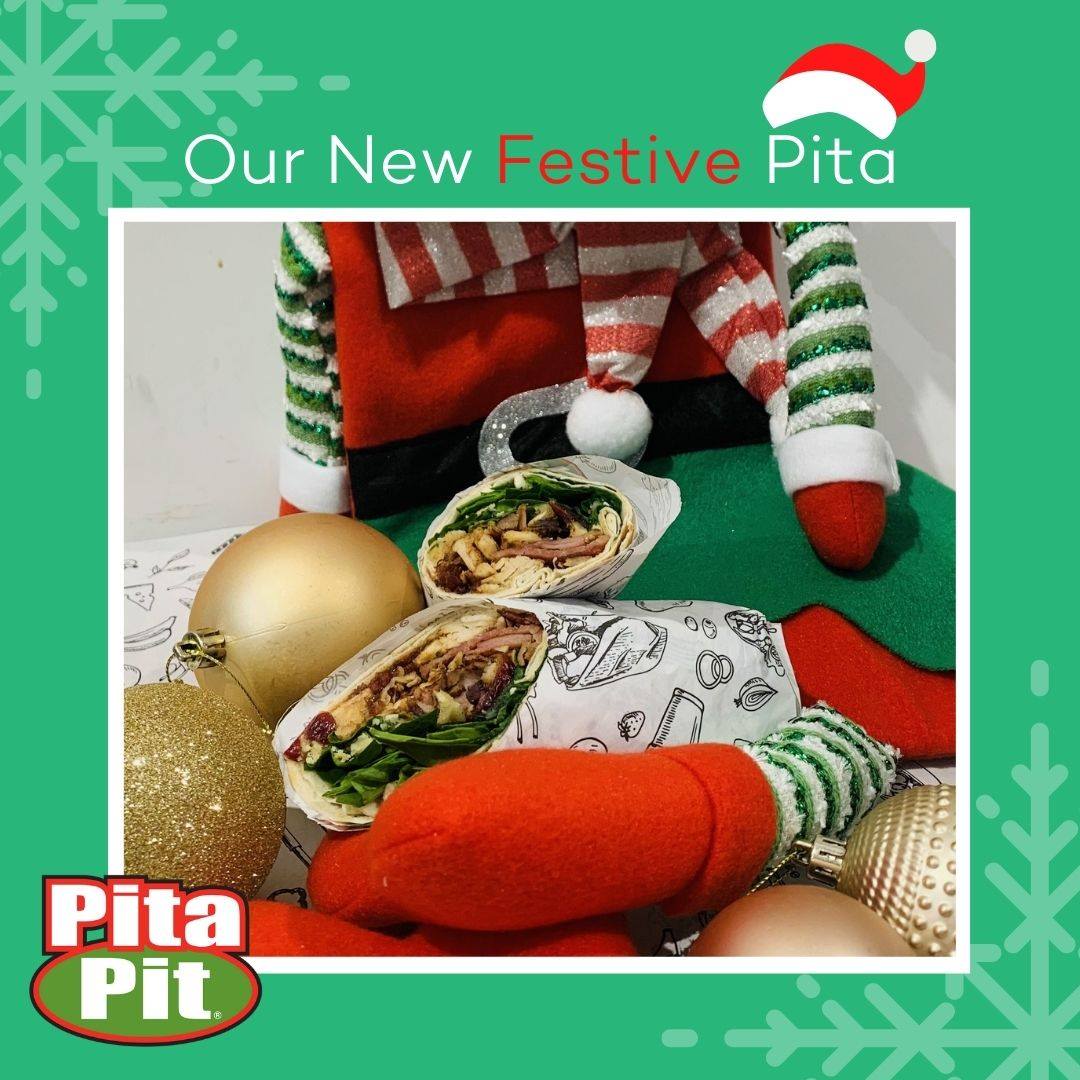 Here at Pita Pit, we are all about providing you with the healthiest and most nutritious food possible, but there is one time of the year where we should all treat ourselves to a little indulgence and that's Christmas time.
With that in mind, we have created our new Festive Pita for you to enjoy. 
Our Festive Pita is filled with succulent roast turkey and ham, delicious stuffing, baby spinach and onion for some crunch, juicy cranberries and rich tomato relish, all wrapped in one of our traditional pita's.

ONLY
THE BEST INGREDIENTS
Posted on November 18th 2020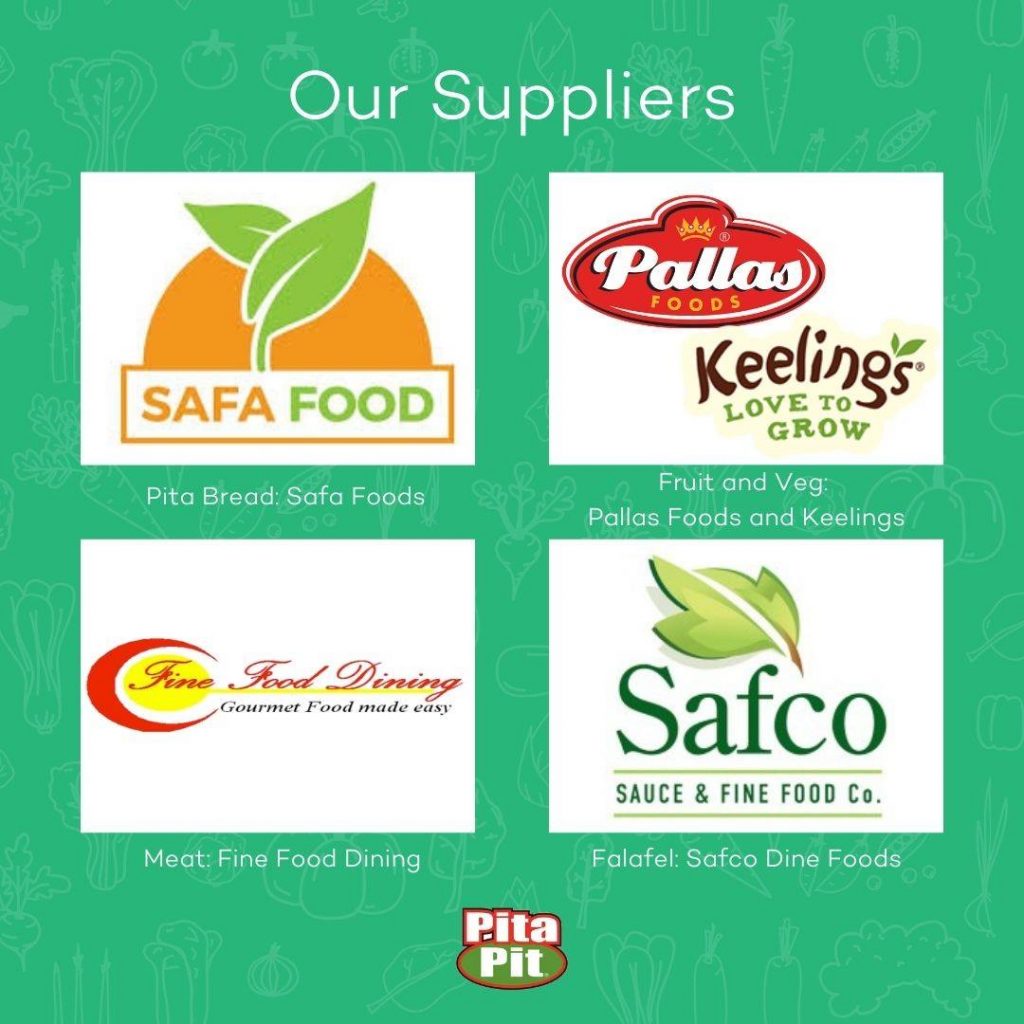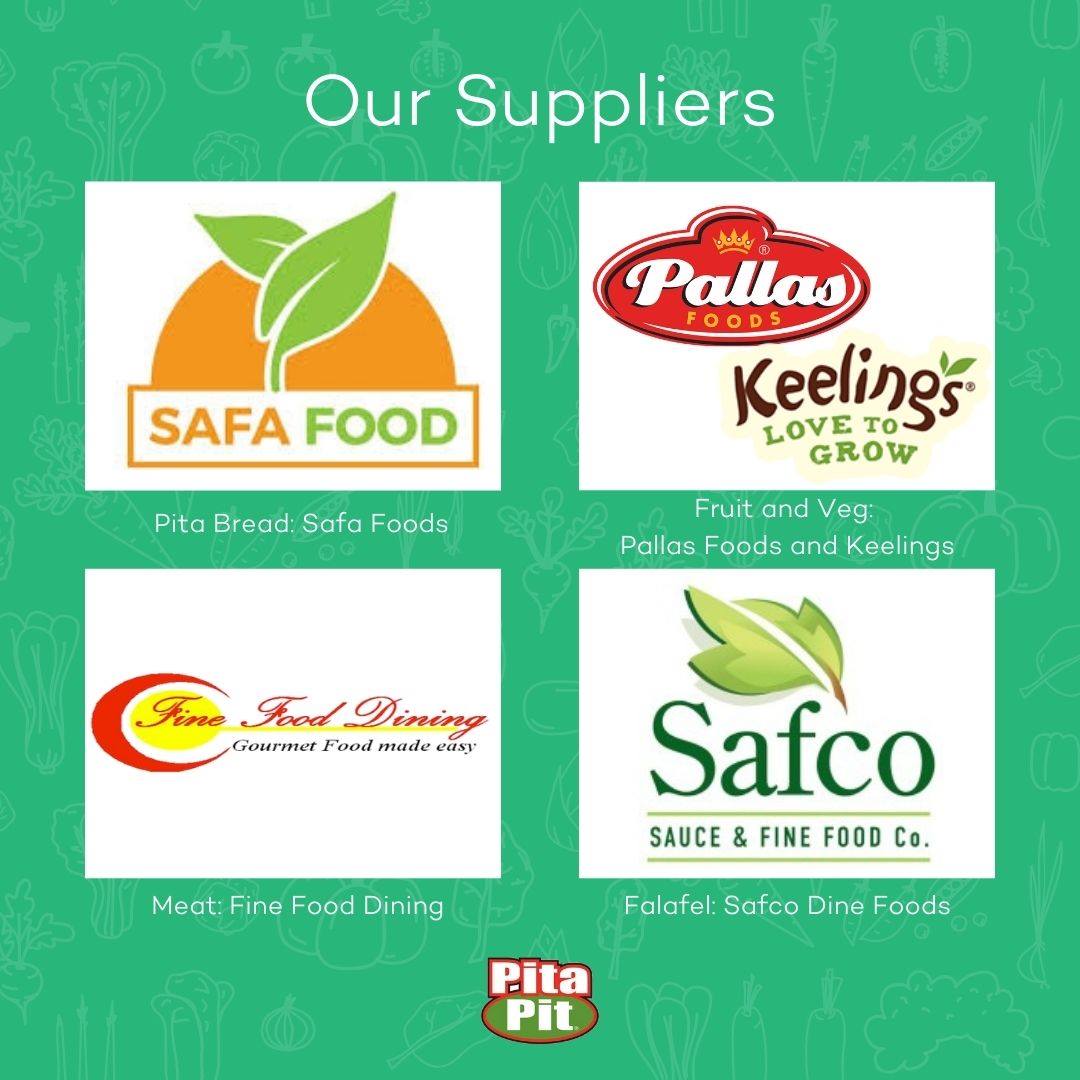 At Pita Pit, we pride ourselves on using only the finest quality ingredients to provide you with the healthiest, most nutritious, and tastiest pitas on the market. To achieve this, we work with local suppliers who source the freshest local seasonal ingredients to help us craft our delicious pitas for you. These suppliers provide us with;
Pita Bread: our traditional and healthy pita bread comes from Safa Foods who produce these wonderful breads in their state-of-the-art factory in Dublin 24.
Fruit and Vegetables: we work closely with two suppliers, Pallas Foods and Keelings to source the freshest, tastiest, seasonal, and Irish (where possible) fresh produce to use in our pitas and bowls.
Meat: our meat and poultry are supplied to us by local firm Fine Food Dining based in Dublin 12. They supply us with Bord Bia approved 100% Irish beef and chicken for us to serve in our pitas, salads, and rice bowls.
Falafel: the lovely falafel that we use in our dishes is from another Irish supplier, Safco Fine Foods, who makes and supplies the falafel from his premises in Dublin 24.
This is just a little glimpse to show our customers how we at Pita Pit strive to find local producers and suppliers to help us to bring you the freshest, healthiest, local produce to use in our pitas, salads & rice bowls.

GREAT FLAVOUR,
WITHOUT
THE GUILT
Posted on November 4th 2020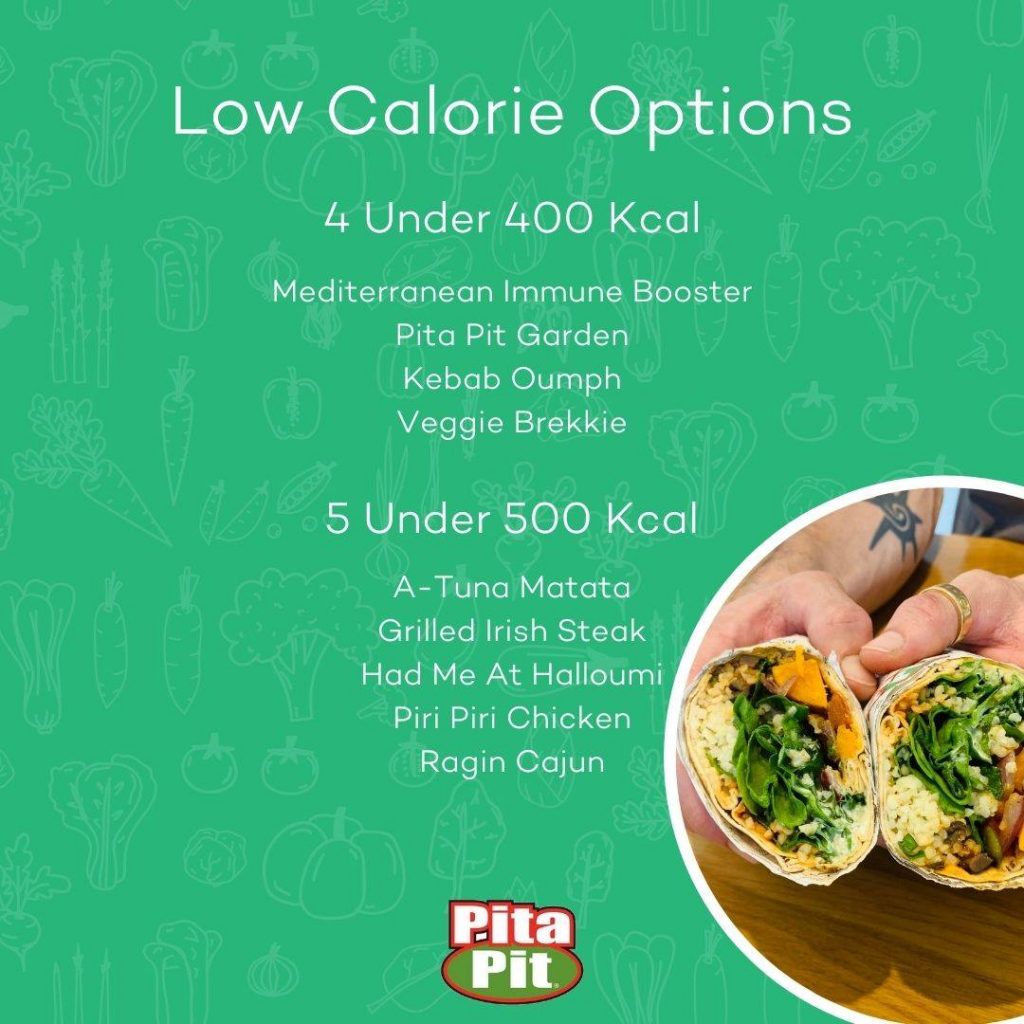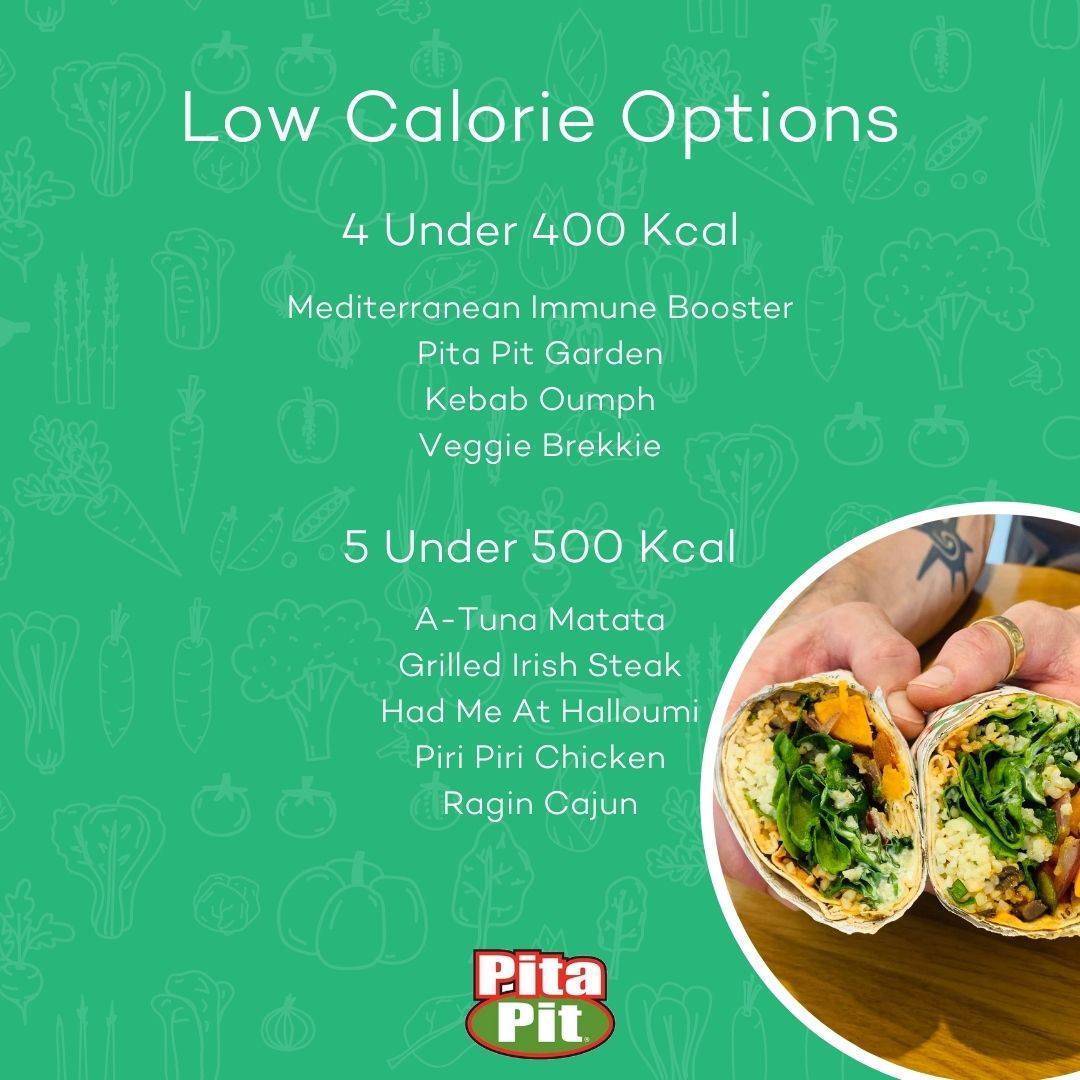 If you're looking for great flavour without the guilt, here at Pita Pit, we have plenty of light, healthy and low-calorie options for you to choose from.
Here are our 4 under 400 Kcal and 5 under 500 Kcal options for you to enjoy:
4 Under 400 Calories
Mediterranean Immune Booster
Pita Pit Garden
Kebab Oumph!
Veggie Brekkie
5 Under 500 Calories
A-Tuna Matata
Grilled Irish Steak
Had Me At Halloumi
Piri Piri Chicken
Rajin' Cajun

10 PITA FACTS
YOU MAY
NOT KNOW
Posted on October 23rd 2020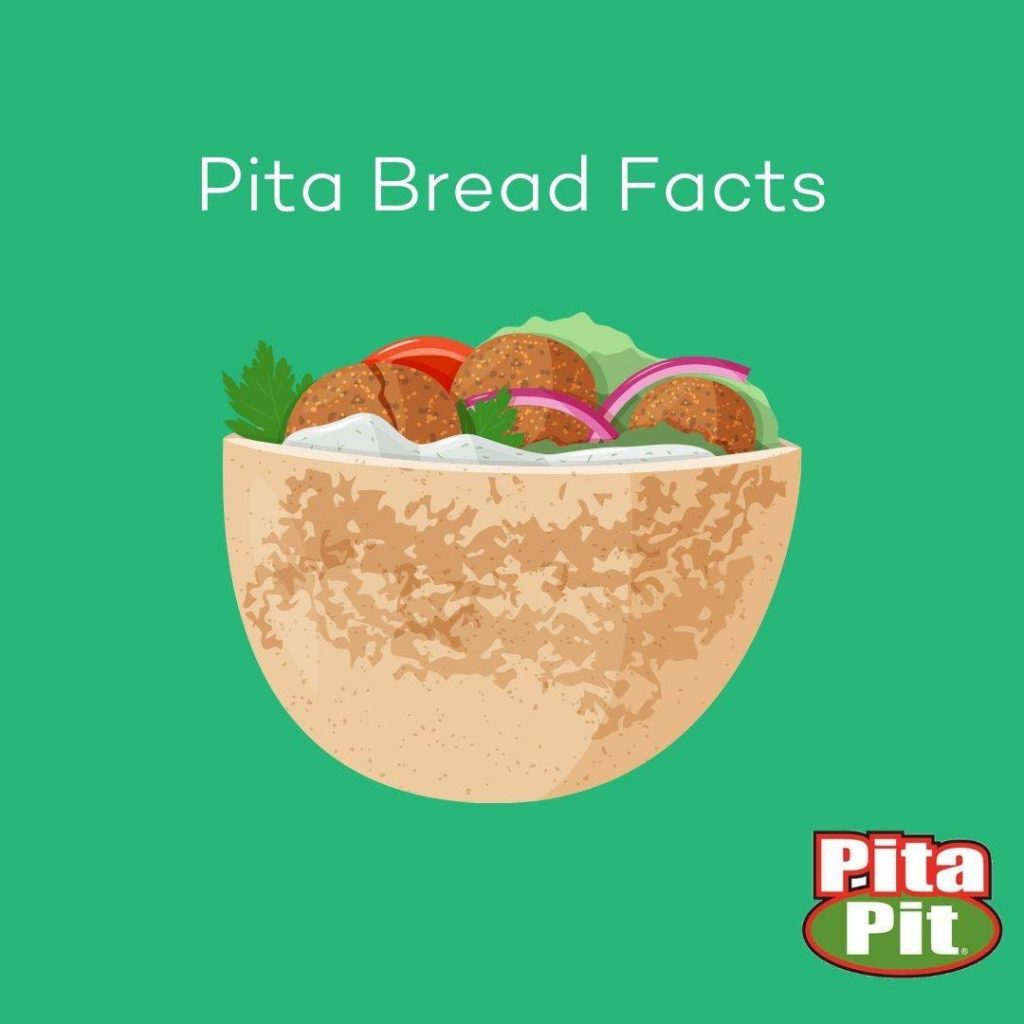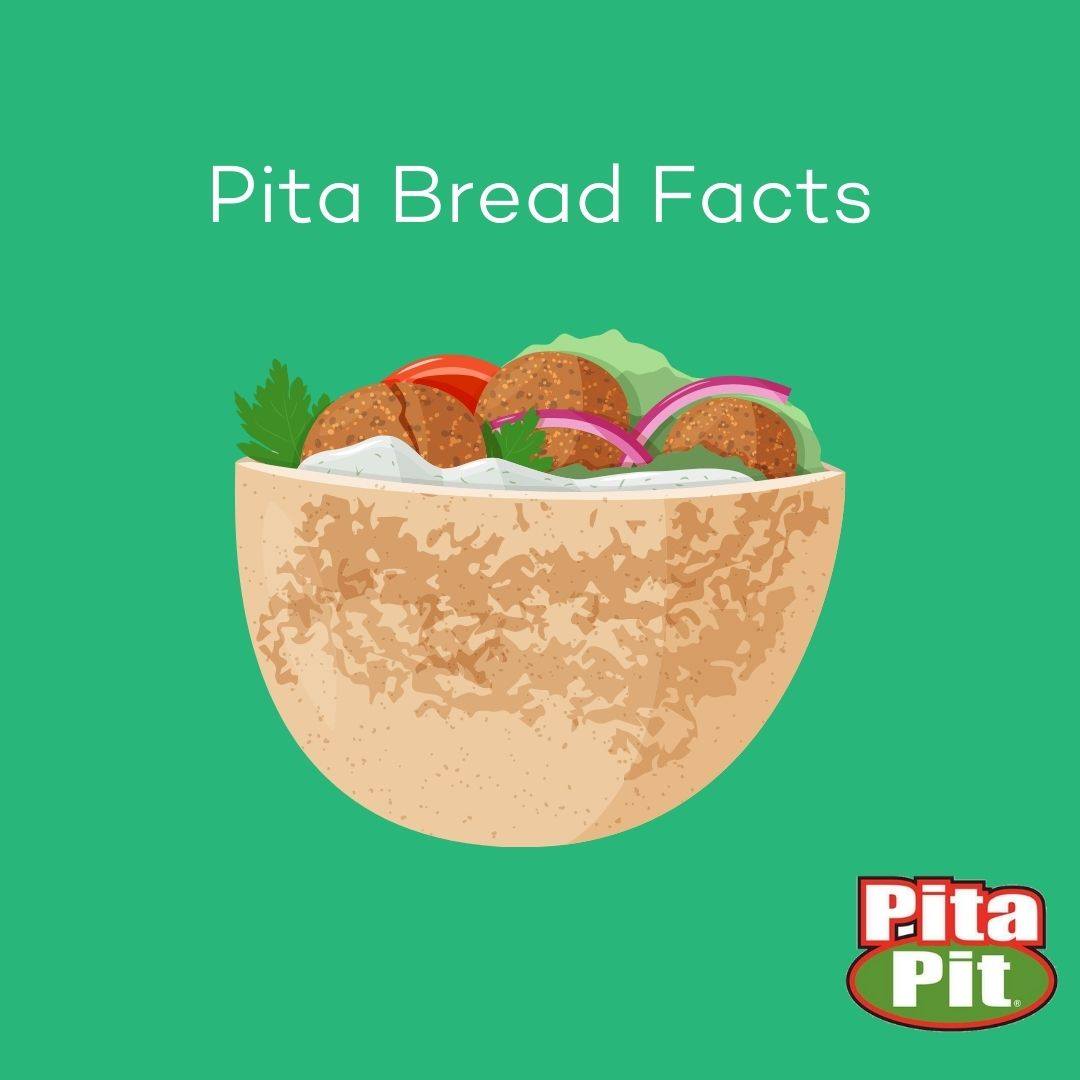 Pita bread is the indigenous bread found in the Mediterranean, Middle East, and neighbouring regions. In recent years it has become readily available throughout the world.
Here are some Pita Bread facts to think about:
It is a yeast-leavened round flatbread baked from wheat flour.
There are many types of pita, most commonly known are the ones with the interior pocket (often used for kebabs) and the flatter types with less conspicuous pockets (used for souvlaki).
Recent archaeological finds in Jordan have uncovered evidence of flatbread being made as long as 14,500 years ago.
In ancient Babylonia around 4000 years ago, flatbread became an important staple in the diet and there are bread recipes dating back to this time where bread was baked in a clay oven similar to today.
The word pita was first cited in the oxford dictionary of 1936 and it seems that the anglicised version of the word derives from modern Greek which in turn derives from old Byzantine Greek.
Pita can be used as a bread and also a utensil to pick up food, as is often done with dips such as hummus and baba ganoush.
Pita bread is traditionally cooked in an extremely hot oven to convert water in the dough into steam which causes the pocket to form.
One of our brown pita breads contains 25% of your daily fibre recommendations, less fat and salt, and more protein than 2 slices of wholemeal bread.
One of our white Pita's contains 20% more protein & 50% less fat than 2 slices of white bread.
In Lebanon, the bread is not called pita bread but "Khebez" which means to bake in the oven.