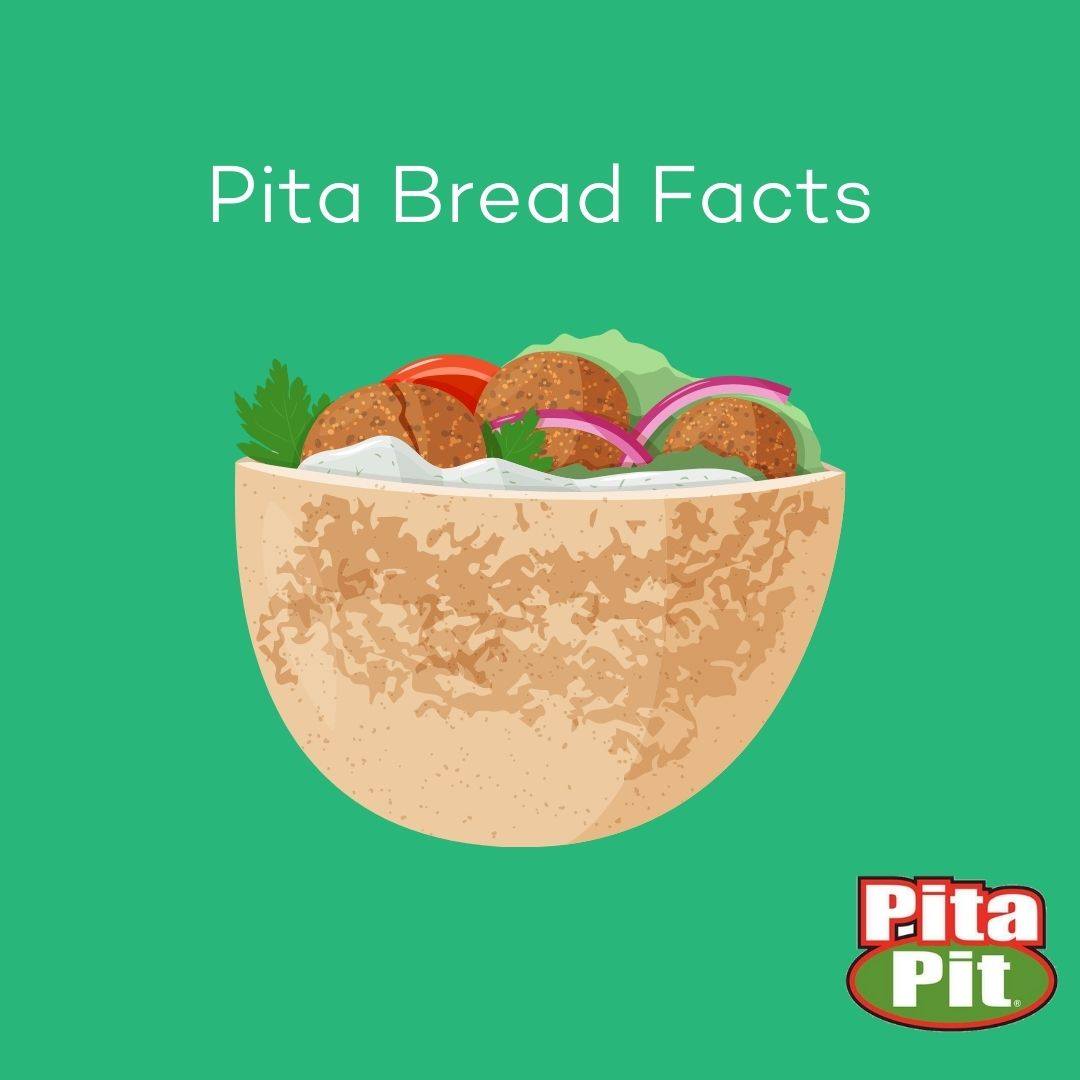 STORY OF
PITA
BREAD
Pita bread is the indigenous bread found in the Mediterranean, Middle East, and neighbouring regions. In recent years it has become readily available throughout the world.
Here are some Pita Bread facts to think about:
It is a yeast-leavened round flatbread baked from wheat flour.
There are many types of pita, most commonly known are the ones with the interior pocket (often used for kebabs) and the flatter types with less conspicuous pockets (used for souvlaki).
Recent archaeological finds in Jordan have uncovered evidence of flatbread being made as long as 14,500 years ago.
In ancient Babylonia around 4000 years ago flatbread became an important staple in the diet and there are bread recipes dating back to this time where bread was baked in a clay oven similar to today.
The word pita was first cited in the oxford dictionary of 1936 and it seems that the anglicised version of the word derives from modern Greek which in turn derives from old Byzantine Greek.
Pita can be used as a bread and also a utensil to pick up food, as is often done with dips such as hummus and baba ganoush.
Pita bread is traditionally cooked in an extremely hot oven to convert water in the dough into steam which causes the pocket to form.
One of our brown pita breads contains 25% of your daily fibre recommendations, less fat and salt, and more protein than 2 slices of wholemeal bread.
One of our white Pita's contains 20% more protein & 50% less fat than 2 slices of white bread.
In Lebanon, the bread is not called pita bread but "Khebez" which means to bake in the oven.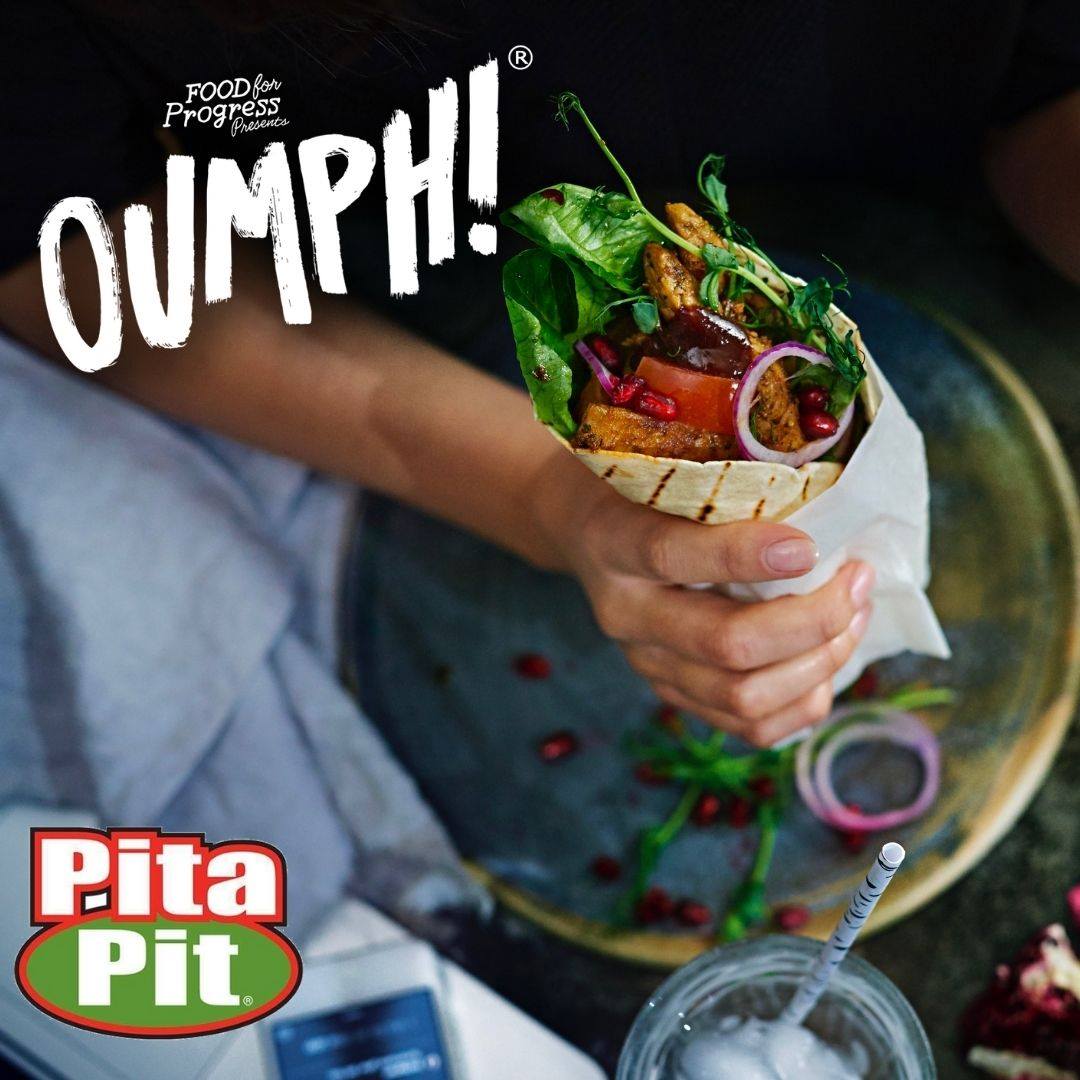 VEGAN / VEGETARIAN / OUMPH!
We take nutrition seriously here at Pita Pit and want to help you understand it easier. A healthy diet is all about balance. We should all try to eat more fresh foods and cut down on processed ones. Some simple tips include:
Increase your intake of high fibre starchy Carbs, these include whole grains, wholemeal pasta, and brown rice. That is why we use brown rice in our bowls. These carbs are good for us, are slow-release, and provide energy over a longer period. They also feed all the good bugs in our gut which promotes a healthy immune system.
Eat more vegetables and fruit. All of our pitas are packed full of fresh, tasty, nutritious vegetables and salads. Fresh fruit and vegetables are a powerhouse of nutrients for your body.
Eat more healthy fats like the ones found in salmon and avocados, these fats are good for us and have great benefits for the brain and the heart. You can find these in our bowls and pitas.
Drink plenty of fluids. We should try and increase our intake of healthy fluids such as water or some of our other in-store beverages such as kombucha which benefits our immune system by feeding those bugs in our gut and promoting a healthy immune system. There is also our delicious range of smoothies which have all been nutritionally analysed to provide you with a delicious, nutritious drink that is packed with vitamins and minerals.
There has been a lot of attention in the media in recent times about the benefits of various different diets and eating habits often endorsed by celebrities who look great, with perfect figures and smiles. But before we rush to jump on a celebrity-endorsed bandwagon let's just stop and think for a moment. Celebrities are not the general public, celebrities have personal trainers, celebrities have the time to spend with personal trainers. All photoshoots are managed and staged with great lighting and makeup. These celebrities don't wake up in the morning looking like that. We all should eat healthier and we all probably know that.
The Eat-Lancet report of 2019 stated that as a planet to achieve a sustainable food system we need to reduce our consumption of animal-based protein and increase our consumption of plant-based alternatives. This is both for our own personal health and for the health of the planet.
Currently, more than 50% of the planet's ice-free land is used for the production of animal protein between grazing land and land used to grow feed for these animals.
As economies become wealthier, the demand for these products which may have been luxuries previously will grow, thus putting pressure on the planet.
It is reported that 1kg of beef requires 10 times the amount of water required to grow 1kg of wheat and that 1kg of poultry requires 5 times the amount of water than beef. Remembering that water is a finite resource.
As consumers, we may consider reducing our consumption of these products a little, if we all did a little bit it would do a lot for the planet.
Consuming more vegetables and fruits is both good for us and the planet, some of the benefits include:
Plants are high in fibre which is good for our gut and our immune system.
Plants are a good energy source and also contain good quality protein such as that found in soy, lentils, chickpeas, and peanuts.
Fruits and vegetables are packed full of micronutrients and vitamins which help the body run at an optimal level.
The more fruit and vegetables we eat the more benefits for our bodies in weight management and healthy outcome.
Every meat-free day by a person can save 1100 gallons of water, 10kg of grain production, and 10 kg of carbon dioxide production.
Always remember that we should eat whole foods and not processed ones – a vegan sausage roll is no healthier than a regular sausage roll.
At Pita Pit, we love Oumph which is a plant-based protein product derived from soy. It is all European grown and does not contribute to deforestation. It is GMO-free and is rich in protein and fibre and high in Iron and Folic acid. It comes in a range of varieties and flavours. Why don't you check out our Spiced Oumph or Kebab Oumph Pitas as a great introduction to plant-based meat alternatives? For more information on this great product check out https://oumph.uk/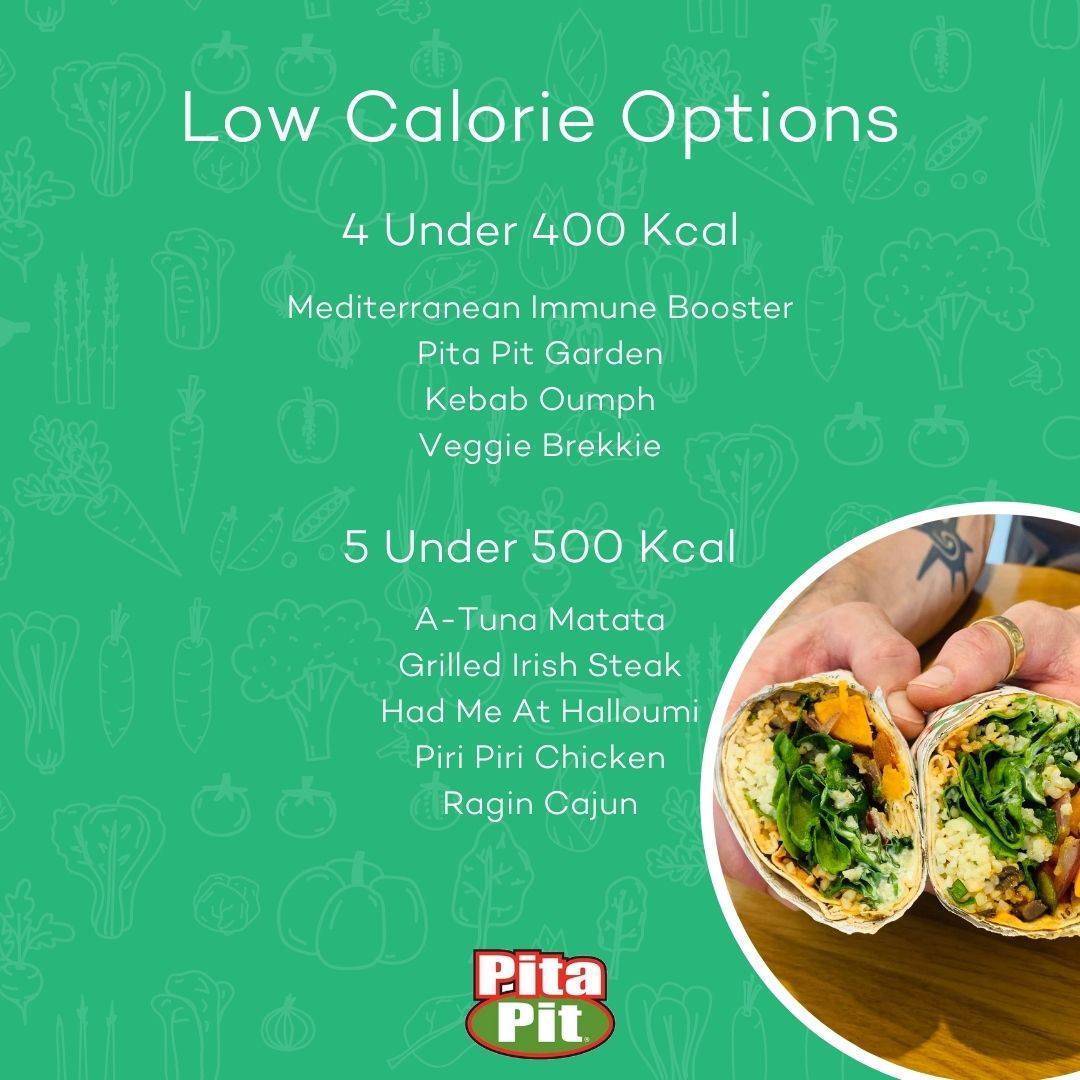 4 UNDER 400 CALORIES, 5 UNDER 500 CALORIES
If you're looking for great flavour without the guilt, here at Pita Pit, we have plenty of light, healthy and low-calorie options for you to choose from.
Here are our 4 under 400 Kcal and 5 under 500 Kcal options for you to enjoy:
4 Under 400 Calories
Mediterranean Immune Booster
Pita Pit Garden
Kebab Oumph!
Veggie Brekkie
5 Under 500 Calories
A-Tuna Matata
Grilled Irish Steak
Had Me At Halloumi
Piri Piri Chicken
Rajin' Cajun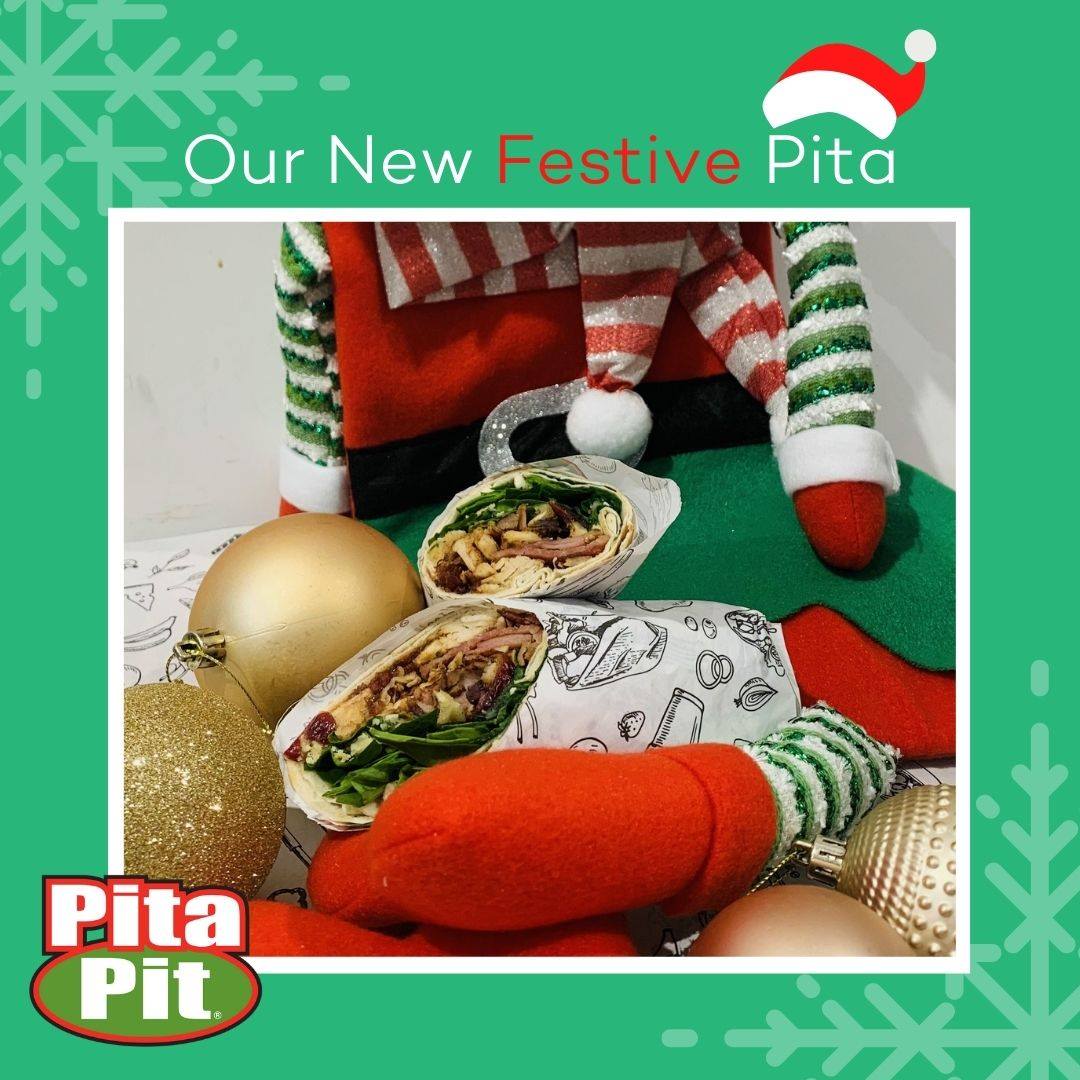 FESTIVE
PITA -
REWARD
YOURSELF
Here at Pita Pit, we are all about providing you with the healthiest and most nutritious food possible, but there is one time of the year where we should all treat ourselves to a little indulgence and that's Christmas time.
With that in mind, we have created our new Festive Pita for you to enjoy. 
Our Festive Pita is filled with succulent roast turkey and ham, delicious stuffing, baby spinach and onion for some crunch, juicy cranberries and rich tomato relish, all wrapped in one of our traditional pita's.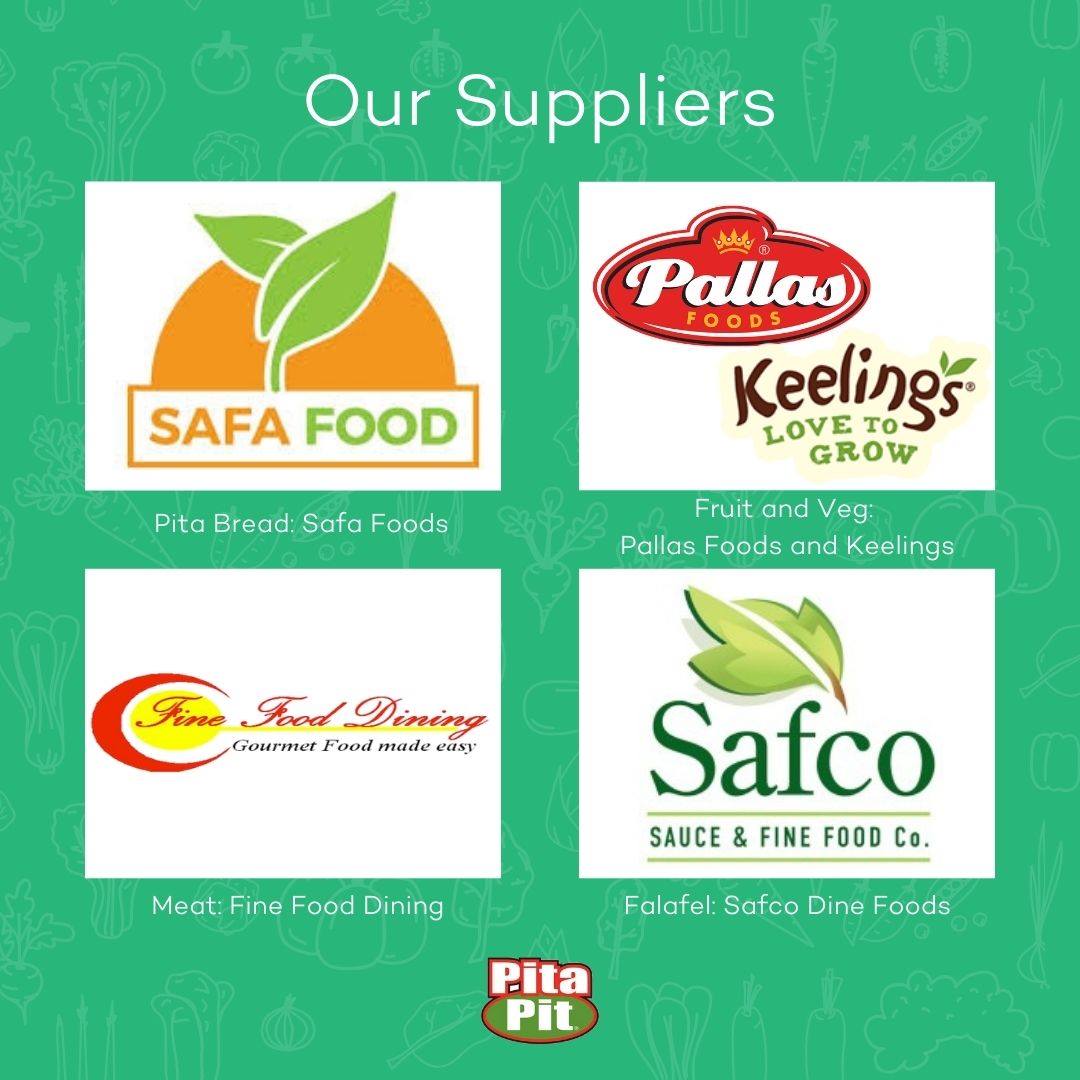 QUALITY OF LOCAL PRODUCE
At Pita Pit, we pride ourselves on using only the finest quality ingredients to provide you with the healthiest, most nutritious, and tastiest pitas on the market. To achieve this, we work with local suppliers who source the freshest local seasonal ingredients to help us craft our delicious pitas for you. These suppliers provide us with;
Pita Bread: our traditional and healthy pita bread comes from Safa Foods who produce these wonderful breads in their state-of-the-art factory in Dublin 24.
Fruit and Vegetables: we work closely with two suppliers, Pallas foods and Keelings to source the freshest, tastiest, seasonal, and Irish (where possible) fresh produce to use in our pitas and bowls.
Meat: our meat and poultry are supplied to us by local firm Fine Food Dining based in Dublin 12. They supply us with Bord Bia approved 100% Irish beef and Chicken for us to serve in our pitas, salads, and rice bowls.
Falafel: the lovely falafel that we use in our dishes is from another Irish supplier, Safco Fine Foods, who makes and supplies from his premises in Dublin 24.
This is just a little glimpse to show our customers how we at Pita Pit strive to find local producers and suppliers to help us to bring you the freshest, healthiest, local produce to use in our pitas, salads & rice bowls.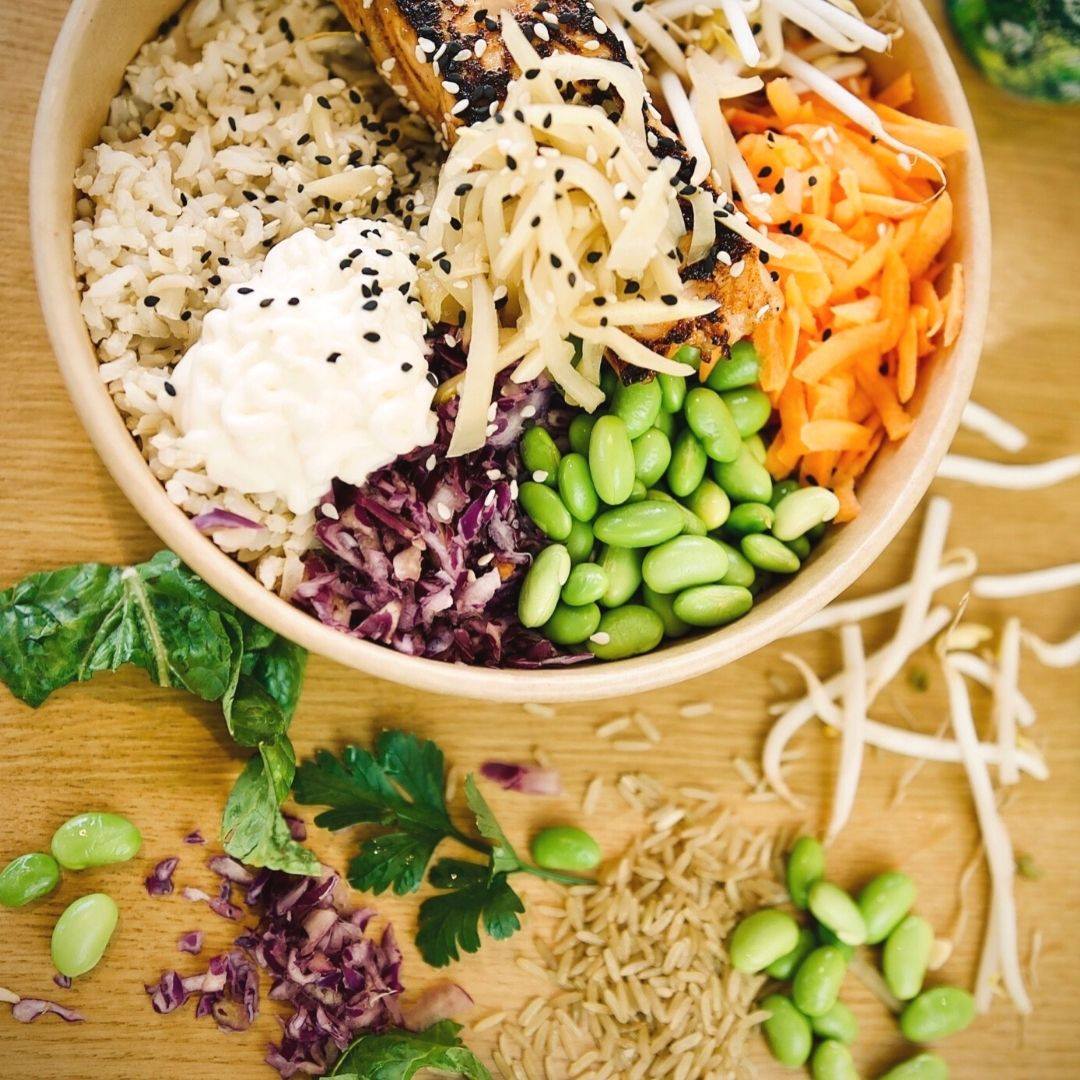 BOWL'D
As we begin to see the days get a little bit longer and the January blues are starting to dissipate, let Pita Pit help put a spring in your step with our range of bowls. At Pita Pit our aim is to provide you with delicious healthy food to energise you throughout your day. Our pitas are packed with fresh, healthy, and nutritious ingredients with our brown pitas which are handmade in Dublin, delivering nearly a quarter of your fibre needs for a day.
For our customers that are more calorie conscious, did you know that you can enjoy one of our delicious pitas in a bowl minus the bread and reduce the calorie content by 200Kcal?  This gives everyone the opportunity to experience and taste our delicious menu on your terms whether in a bowl or in our handmade pitas, rolled or bowl'd you can have it your way.
Another tip for our more calorie conscious customers is to half the cheese in your order, while our cheeses are delicious and tasty and a great compliment to our dishes and also a great source of protein, having a little less can improve on your overall calorie consumption in a day.
Don't forget to visit our nutrition section on our website for accurate information on all of our delicious, nutritious offerings.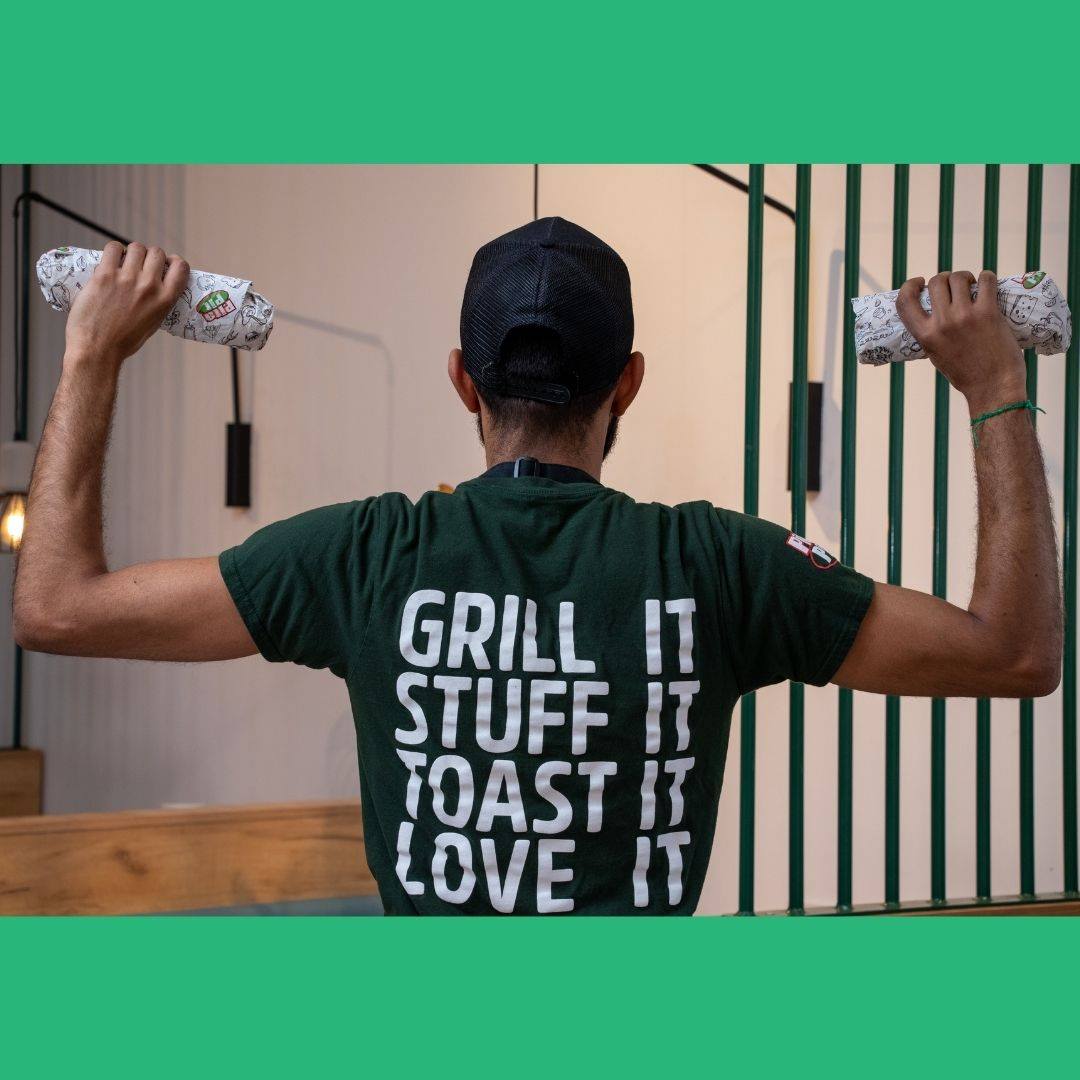 MINDFULNESS
As we finally see the back of gloomy winter and there is an air of expectation with the tentative signs that spring is coming, let us use the time wisely to banish those winter blues and embrace spring and all it has to offer. Now that the days are getting a little longer and the temperatures are getting a little warmer, let's take a moment to appreciate it and all that it brings.
With so many of us still working remotely and involved in homeschooling the pressure on us to perform can be relentless and at times, extremely stressful. It can be quite challenging to try to juggle and keep on top of everything. That's why it's good to take a little "you time" and during that time maybe you would consider exploring mindfulness.
Mindfulness is a type of meditation in which you focus on being intensely aware of what you are sensing and feeling in the moment, without interpretation or judgment. Practicing mindfulness involves breathing methods, guided imagery, and other practices to relax the body and mind and help reduce stress.
Spending too much time planning, problem-solving, daydreaming, or thinking negative or random thoughts can be draining. It can also make you more likely to experience stress, anxiety, and symptoms of depression. Practicing mindfulness exercises can help you direct your attention away from this kind of thinking and engage with the world around you.
What are some examples of mindfulness exercises?
There are many simple ways to practice mindfulness. Some examples include:
Pay attention.

 It is hard to slow down and notice things in a busy world. Try to take the time to experience your environment with all of your senses — touch, sound, sight, smell, and taste. For example, when you eat a favourite food, take the time to smell, taste, and truly enjoy it.

Live in the moment.

 Try to intentionally bring an open, accepting, and discerning attention to everything you do. Find joy in simple pleasures.

Accept yourself.

 Treat yourself the way you would treat a good friend.

Focus on your breathing.

 When you have negative thoughts, try to sit down, take a deep breath, and close your eyes. Focus on your breath as it moves in and out of your body. Sitting and breathing for even just a minute can help.
Exercise is also a great way to improve our mood, it has been shown to increase serotonin (the happy hormone) levels in our brain, it is both physically and mentally beneficial for us. The more we do the better we feel, here are some simple ways to get a little exercise into your daily routine even if you are working remotely
Get up and move

 every hour, walk around for two minutes, you could even try a few jumping jacks if you feel like it

Use what you have, 

you do not need fancy gym

 

equipment to do a little home workout. Sit-ups or push-ups don't require anything except yourself. Tin cans or bags of sugar from your larder or bottles of laundry detergent can replace weights for strength training.

Go for a walk,

if you can get out for a walk on your lunch break even fifteen minutes is of benefit. If you can leave your phone behind while on the walk and practice some mindfulness while walking (living in the moment and clearing your head of negative thoughts) the benefits of this can be huge.
A healthy diet can support your mind and body to get through these stressful and challenging times and that is where Pita Pit can help. On those days when you might not feel like cooking but you still want something fresh, healthy, and nutritious, let us help you with our range of delicious healthy whole food pitas, salad and rice bowls, healthy snacks, and superfood smoothies. For our full range and complete nutritional information on all our products please visit https://pitapit.ie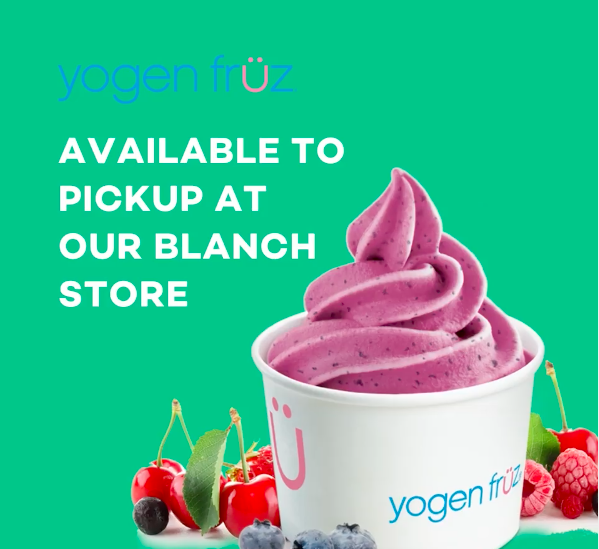 YOGEN FRUZ
At Pita Pit, we are always trying to bring you delicious tastes, flavours, and experiences that help you embrace a healthy lifestyle. Pita Pit are delighted to introduce you to Yogen Fruz, a mouth-watering, healthy, guilt-free, frozen yoghurt treat. Here's how it works, we take a healthy low-fat Yogen Fruz frozen yoghurt bar which is 130 Kcal and you select which premium-grade frozen fruit you want to flavour your delicious treat. We pop them into our Yogen Fruz blending machine, which works its magic and we dispense you a whipped delicious healthy treat moments later. Fast, tasty, and healthy!
Just like regular yoghurt, frozen yoghurt contains live probiotic cultures. Probiotic cultures such as lactobacilli and bifidobacteria are healthy bacteria which are beneficial to gut health. With nearly 70% of the body's immune system found in our gut, it is imperative to maintain a healthy digestive system. Probiotic bacteria can assist in the maintenance of a healthy gut and consumption of probiotic-rich foods such as frozen yoghurt can help with this.
Yoghurt and frozen yoghurt have other potential health benefits such as improved calcium absorption for the body due to the presence of lactic bacteria. Research has shown that the effects of lactose intolerance are greatly reduced or eliminated in many people when they consume yoghurt, because of the cultures present in the yoghurt. The bacteria in the yoghurt breaks down lactose making it more digestible for sufferers.
Acidophilus, another healthy bacterium found in yoghurt has been shown to assist in the lowering of cholesterol levels in the blood. Yogun Fruz is 97% fat-free and with a portion coming in at under 200 Kcal, it is an excellent, healthy, immune-boosting treat for you to try the next time you feel like a guilt-free indulgence. Check out the new range of Yogun Fruz at https://pitapit.ie/
BY SHANE LOUGHLIN – 
CONSULTING NUTRITIONAL CHEF